Home Insurance Indianapolis IN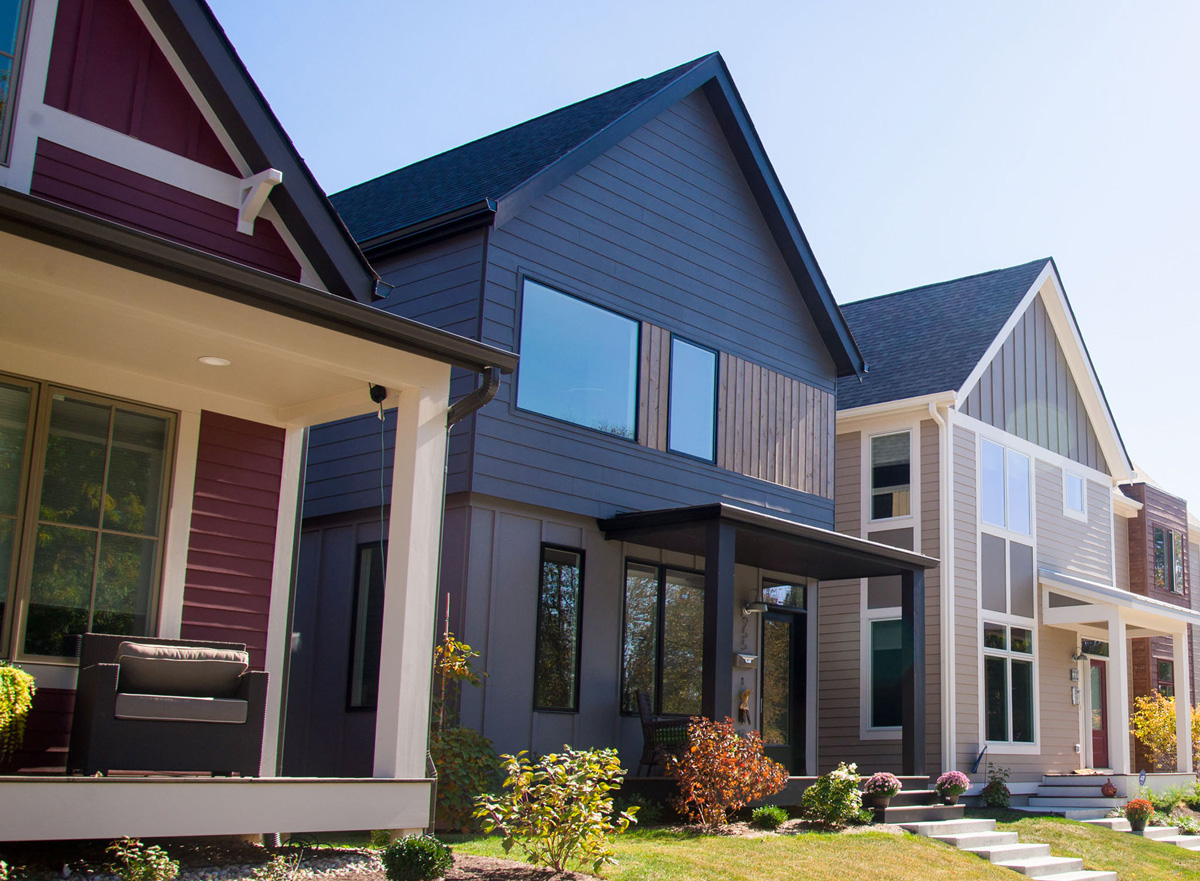 Home Insurance - Indianapolis, IN
The homeownership rate in Indianapolis is 69.8%, which is higher than the national average of 65.1%. Indianapolis homeowners know finding affordable home insurance is really important. We built this helpful guide for all those homeowners looking to review or buy home insurance:

1. Average cost of home insurance in Indianapolis, IN
Even though it is easy to find cheap home insurance in Indianapolis, we still recommend checking out our list of home insurance discounts available to see if you can find any savings.

We search for all discounts for our customers for free. Most customers that use Young Alfred in Indianapolis pay between $911 and $1,741 per year for their home insurance coverage.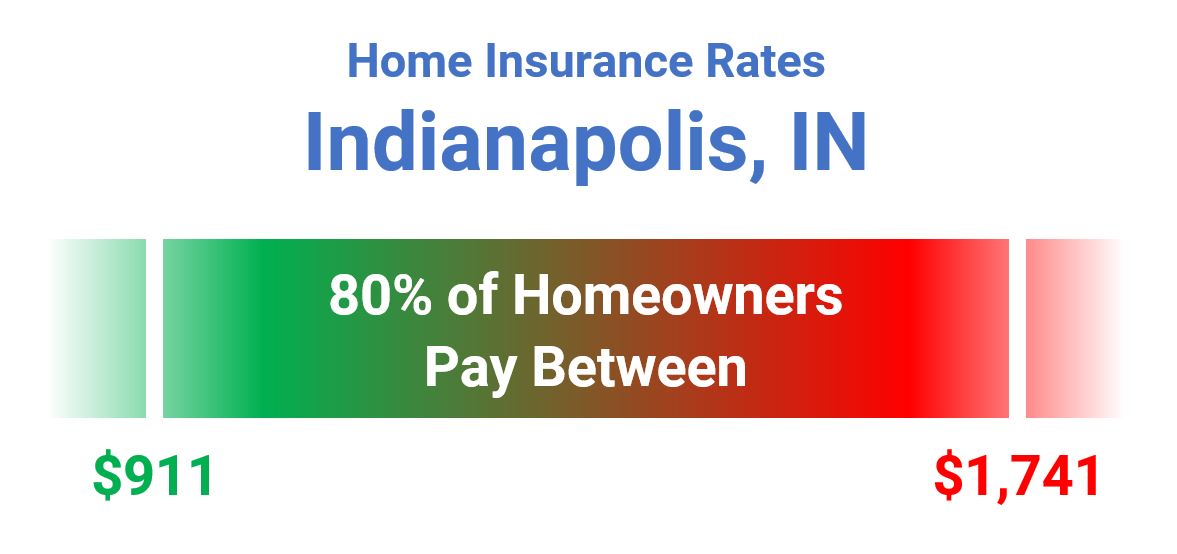 The average home insurance in Indianapolis is $1,334.31. This annual premium will change as the cost to rebuild your home increases. As your home goes up in value, you need more insurance coverage, which will cost more. Be happy if you can find coverage below $911/year in Indianapolis and expect to pay an extra $382/year for every $100,000 increase in your home's value.

Home Insurance Rates in Indianapolis, IN vs. Home Rebuild Cost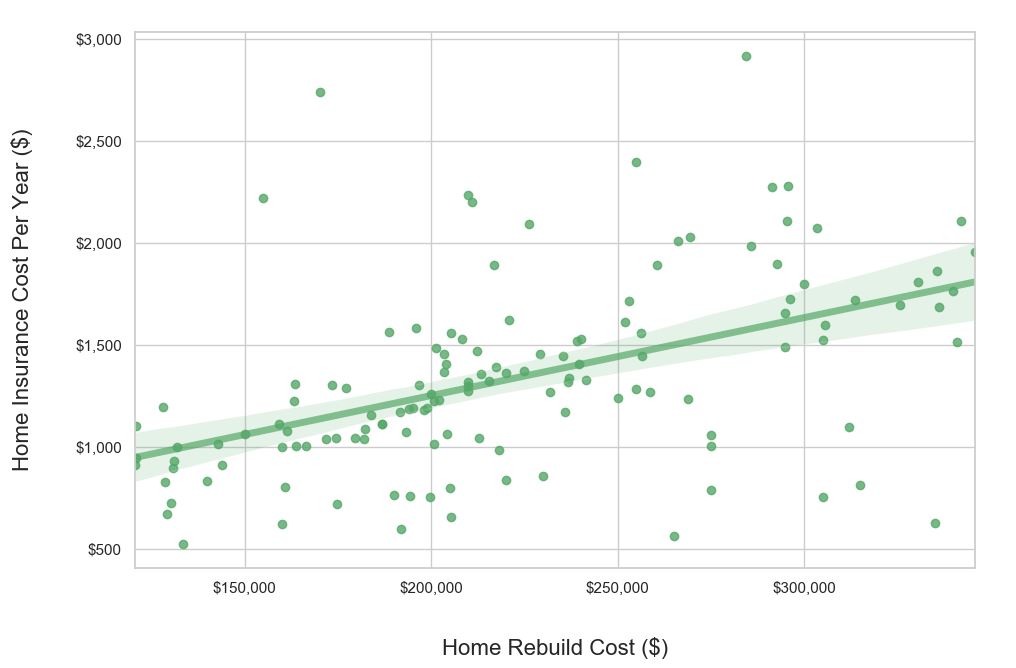 Home insurance rates data generated from the following zip codes: 46205 46206 46207 46208 46214 46216 46220 46221 46201 46202 46203 46204 46209 46211 46217 46218 46219 46222 46223 46224 46227 46228 46229 46230 46231 46234 46225 46226 46235 46236 46237 46241 46247 46249 46254 46255 46262 46274 46275 46277 46239 46240 46242 46244 46250 46251 46253 46256 46259 46260 46266 46268 46278 46280 46290 46291 46298 46282 46283 46285 46295 46296
2. Common home insurance claims in Indianapolis, IN
Indianapolis has high theft and tornado risk, as well as medium risk of freezing, wind, and hail. The flood risk is also surprising, but it does happen in Indiana. Did you know 20% of all flood claims come from low to mid-risk flood zones? It is never too late to evaluate an NFIP or private flood policy.

Indianapolis, IN Home Risk Report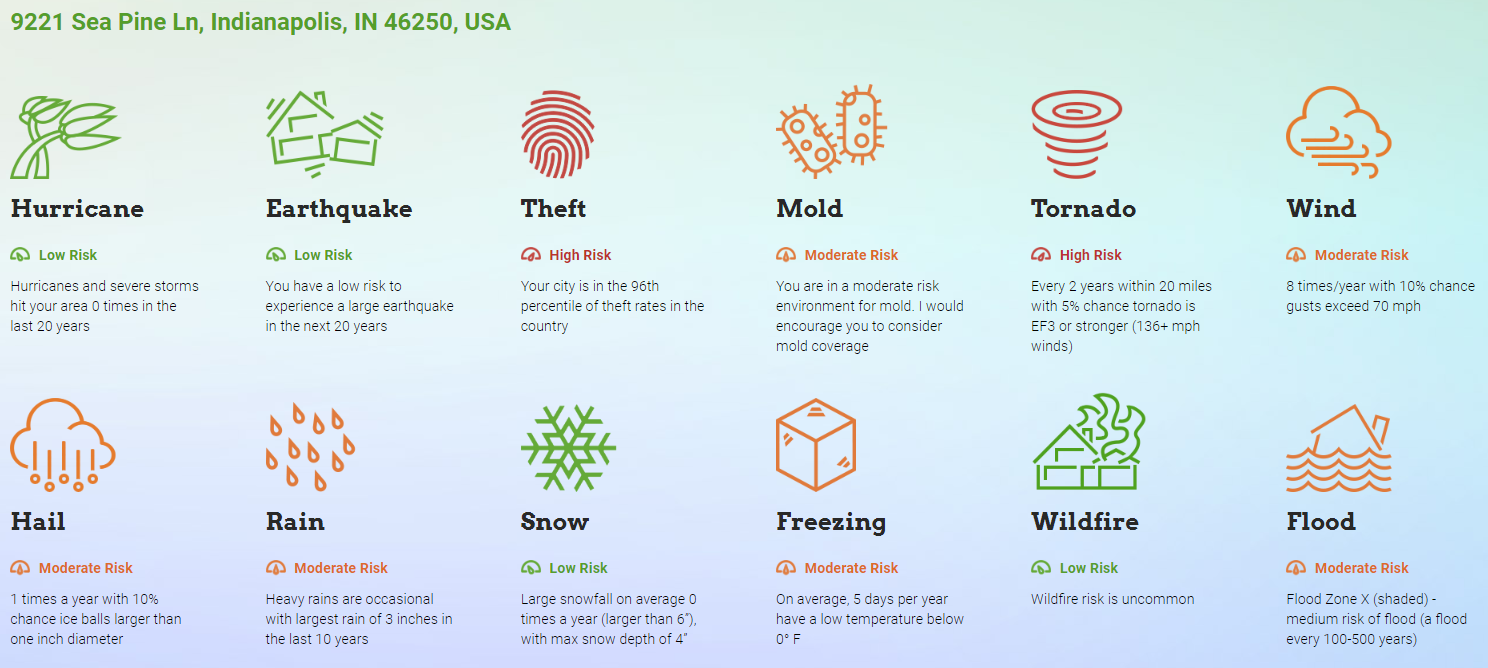 Source: Home Risk Report

3. Coverage details of your home insurance policy
Each homeowner should understand the six major coverage categories.
Coverage A: Dwelling - covers your primary building structure.
Coverage B: Other Structures - covers any structures on your property not attached to your primary home's structure.
Coverage C: Personal Property - covers your personal belongings with special sub-limits for specific categories.
Coverage D: Loss of Use - if you can't live in your home after a covered loss, this helps cover your cost of living somewhere else until repairs are completed
Coverage E: Personal Liability - if someone sues you for something that happened on your property, this will kick in to defend the lawsuit and payout on damages charged in the case.
Coverage F: Medical Liability - if a guest injures themselves on your property, this can cover the guest's medical expenses from that injury.
More importantly, homeowners in Indianapolis, IN should know the three specific coverage details of their home insurance policy:
Water Damage
Water damage represents a third of all homeowners claims. Insurance companies break up water damage into many different categories, only some of which are covered by your standard insurance policy.

Flooding - not covered in your standard homeowners policy, but can be purchased as a separate policy from NFIP or Private Flood Companies.



Water Damage from a Burst Pipe

- usually covered in your standard homeowners policy. You are not covered if they are leaking slowly over time.

Water Backup Coverage - not covered in your default home insurance policy, but can be purchased as an additional add-on.

Storm-Related Water Damage - covered by your standard homeowners policy if the water enters from above the ground level.

Water Seepage/Groundwater - not covered in your standard homeowners policy, can sometimes be purchased as an add-on coverage.

Freezing Pipes and Ice Dams
Check your policy to see if it covers freezing pipes and ice damming. Usually, bursting pipes are covered by default on your home insurance policy, but ice dams may not be covered. What is an ice dam? Exactly what it sounds like:



Often times, ice dams are not covered by your home insurance. Make sure to keep your gutters clean!
Roof Coverage: Replacement Cost or Actual Cash Value
An asphalt shingle roof should be replaced once every 20 years. If you have an older roof, your home insurance policy may only cover the roof at Actual Cash Value (ACV). This means you aren't getting a full reimbursement on your roof in a claims scenario.

Example: Your roof is 19 years old, and you have a hail storm that damages the roof beyond the point of repair - you now need a new roof. The insurance company is not going to cut you a check for a brand new roof if it is covered at ACV, because you were going to have to replace the roof in the next 5 years even without the storm. They will give you a check that represents the remaining useful life of your roof. If the roof is 19 years old, has a 25-year useful life, costs $15,000 to replace, and you have a $1,000 deductible, you are only going to get a check for (25-19)/25*15,000 - $1,000 = $2,600. If your roof is covered at Replacement Cost, you are getting a check for $15,000 - $1,000 = $14,000. In this common example, the Replacement Cost Coverage on your roof was worth an extra $11,400.
4. Insurance carriers offering coverage in Indianapolis, IN
Many carriers are competing for your business in Indianapolis, IN. Home insurance carriers rate on many different risk factors, so it is best to check multiple carriers to see which carrier is the best match for you. Regardless of what carrier you choose, you should at least consider the following:
Financial Stability Rating - AM Best or Demotech
Experience in the local market - how long have they been insuring Indianapolis homes?
Online Reviews on claims and customer service experience
Top home insurance carriers in Indianapolis, IN:
| | | | |
| --- | --- | --- | --- |
| Insurance Company | Financial Stability | Experience | Online Reviews |
| Progressive | AM Best A+ | Experienced | 4 stars |
| Hippo | AM Best A- | New | 5 stars |
| Travelers | AM Best A+ | Experienced | 5 stars |
| USAA | AM Best A++ | Experienced | 5 stars |
| Stillwater | AM Best A- | Experienced | 5 stars |
| State Auto | AM Best A- | Experienced | 4 stars |
| Safeco (Liberty Mutual) | AM Best A | Experienced | 4 stars |
| Encompass (Allstate) | AM Best A+ | Experienced | 5 stars |
| Universal P&C | Demotech A | New | 3 stars |
| Foremost (Farmers) | AM Best A | Experienced | 3 stars |
5. Calculator for home insurance quotes in Indianapolis, IN
A home insurance calculator requires many inputs as insurance carriers rate on hundreds of factors. Most of these rating factors usually fall into three main rating categories:
Property features (location, age, heating, etc.)
You and your family (credit history, claims history, pets, etc.)
Coverage limits and endorsements (deductibles, water backup, replacement cost, etc.)
To get accurate quotes: fill out my custom online home insurance application. Young Alfred does not call or sell your information. We have built an advanced quoting engine that generates the top home insurance quotes in your area, customized for you:

Get Home Insurance Quotes in Indianapolis IN

Hope that helps!
At your service,
Young Alfred