Home Insurance Kissimmee FL

Home Insurance - Kissimmee, FL
Homeowners in Kissimmee know finding the best home insurance is no easy task. The devastating impact of hurricanes makes the coverage in your home insurance policy extremely valuable in the Sunshine State. That's why we built this helpful guide for those looking to review their current policy or purchase new coverage:

1. Average cost of home insurance in Kissimmee, FL
As it can be difficult finding cheap home insurance in Kissimmee, we recommend checking our list of home insurance discounts available to see if you can find any savings.

Most importantly, submit your wind mitigation report on your insurance application, as this report can save you over 50% on your annual insurance bill. If your home was built over 40 years ago, your insurance carrier might require a 4-point inspection report with your home insurance application.

We search for all discounts for our customers for free. Most customers that use Young Alfred in Kissimmee pay between $972 and $2,324 per year for their home insurance coverage.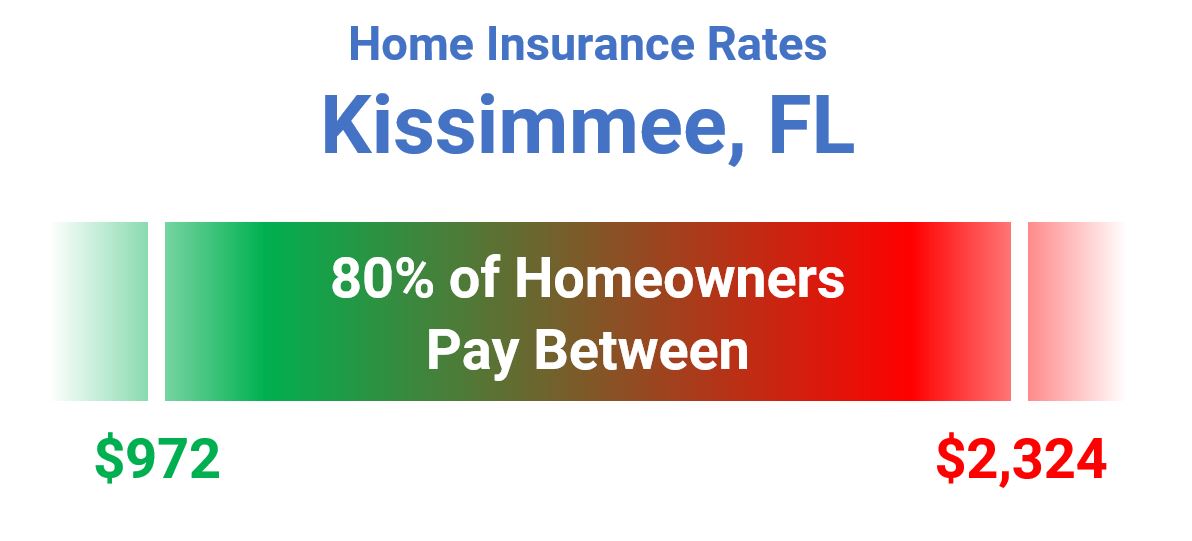 The average home insurance in Kissimmee is $1,636.69. This annual rate will change as the cost to rebuild your home increases. As your home goes up in value, you need more insurance coverage, which costs more. You should be happy to get coverage below $972/year in Kissimmee and expect to pay an extra $457/year for every $100,000 increase in your home's value.

Home Insurance Rates in Kissimmee, FL vs. Home Rebuild Cost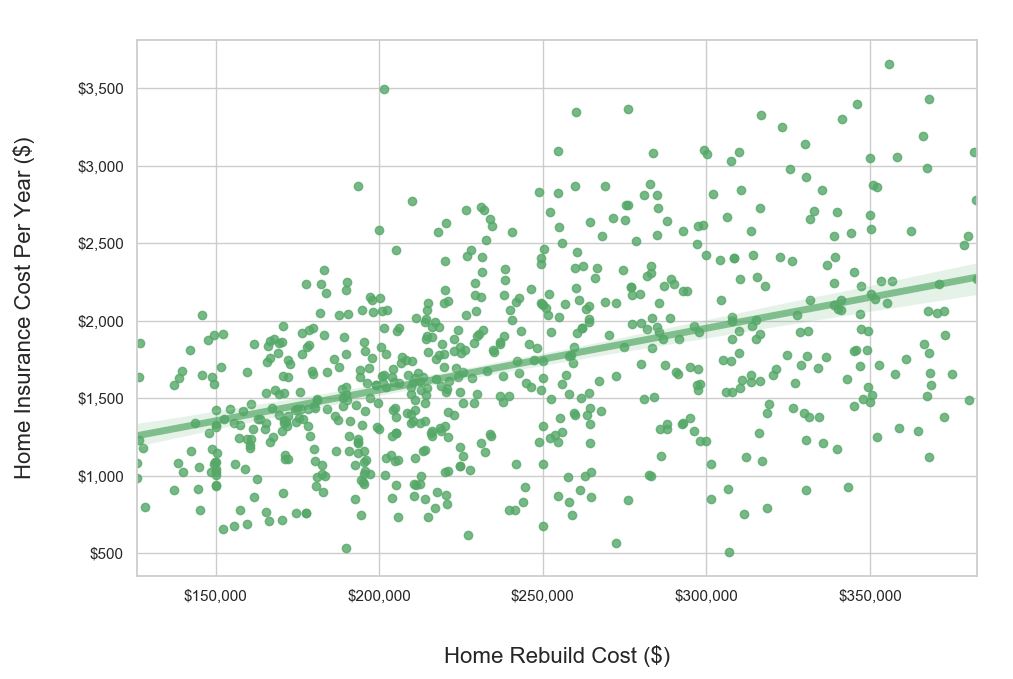 Home insurance rates data generated from the following zip codes: 34742 34743 34744 34745 34746 34747 34758 34759
2. Common home insurance claims in Kissimmee, FL
Kissimmee homeowners know hurricane and wind damage are most common. Heavy rains from a hurricane can also leave severe water damage. Keep these types of claims in mind when shopping for home insurance coverage. Here is an example risk report for a Kissimmee home address.

Kissimmee, FL Home Risk Report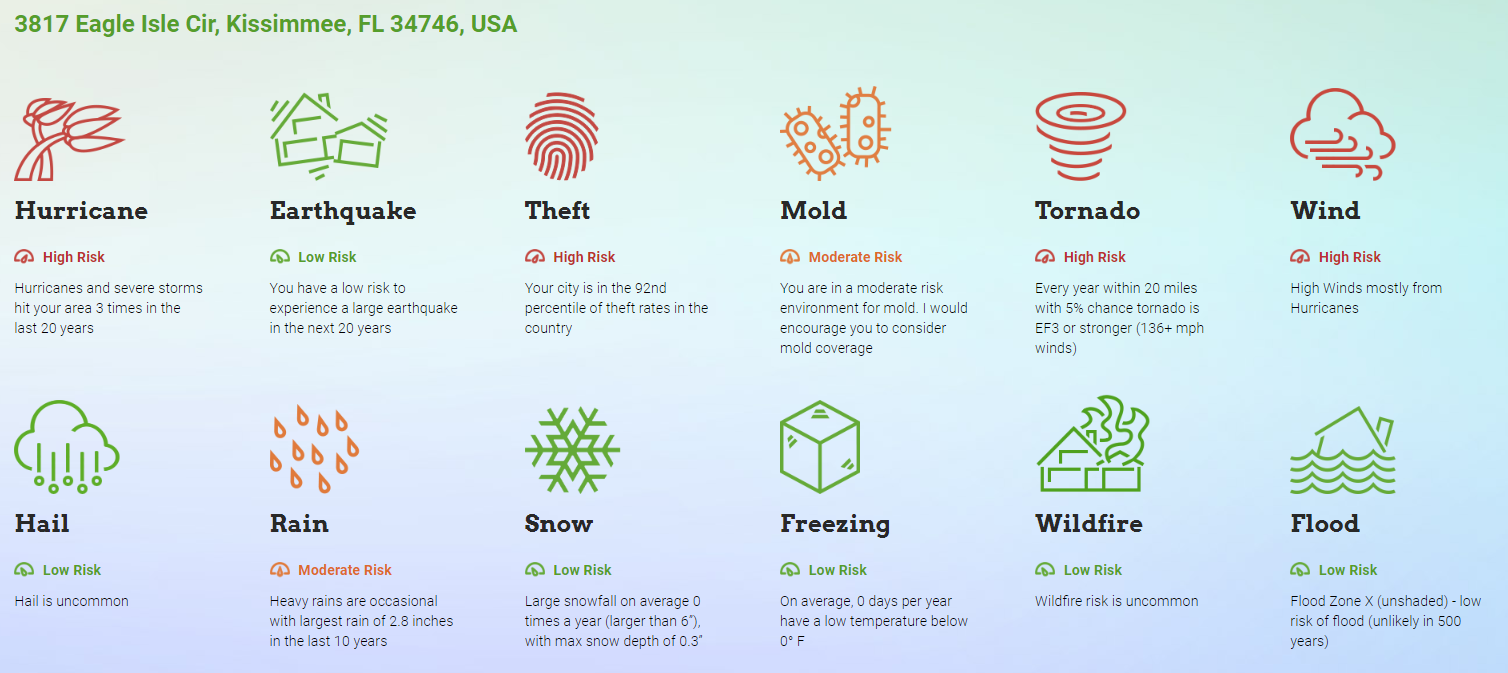 Source: Home Risk Report
When a type of claim is more common in a certain region, you will find more insurance carriers begin to carve away that coverage. Florida is known for many hurricane claims, so carriers in the area offer high hurricane deductibles by default to reduce cost. Reducing coverage gets back to the primary driver of consumer purchase behavior: price. If you do choose the cheaper policy, make sure you aren't sacrificing valuable coverage just to save a few bucks.

3. Coverage details of your home insurance policy
Each homeowner should understand the six major coverage categories.
Coverage A: Dwelling - covers your primary building structure.
Coverage B: Other Structures - covers any structures on your property not attached to your primary home's structure.
Coverage C: Personal Property - covers your personal belongings with special sub-limits for specific categories:
Coverage D: Loss of Use - if you can't live in your home after a covered loss, this helps cover your cost of living somewhere else until repairs are completed
Coverage E: Personal Liability - if someone sues you for something that happened on your property, this will kick in to defend the lawsuit and payout on damages charged in the case.
Coverage F: Medical Liability - if a guest injures themselves on your property, this can cover the guest's medical expenses from that injury.
Kissimmee, FL homeowners should know about the five unique coverage details of their home insurance policy:
Limited Water Damage
Water damage represents a third of all homeowners claims. Insurance companies break up water damage into many different categories, only some of which are covered by your standard insurance policy.

Flooding - not covered in your standard homeowners policy, but can be purchased as a separate policy from NFIP or Private Flood Companies.

Water Damage from a Burst Pipe - usually covered in your standard homeowners policy. You are not covered if they are leaking slowly over time.

Water Backup Coverage - not covered in your default home insurance policy, but can be purchased as an additional add-on.

Storm-Related Water Damage - covered by your standard homeowners policy if the water enters from above the ground level.

Water Seepage/Groundwater - not covered in your standard homeowners policy, can sometimes be purchased as an add-on coverage.

In Florida, it has become common for carriers to limit water damage coverage on a policy to $10,000 or exclude it altogether. As water is expensive to remediate and can cause mold damage ($$$$) relatively quickly, you will find $10,000 is not enough to cover many types of water damage claims. I recommend always buying full water damage coverage if it is available.

Screened Enclosure Coverage
Florida homeowners love the screened pool enclosure. It keeps the mosquitos out, while still letting you enjoy the outdoor pool. Home insurance carriers view this structure differently, and most do not include coverage by default. However, you can usually buy $10,000 to $50,000 in coverage for your screened enclosure for extra premium. Keep in mind this coverage does not cover the netting of the screen, but just the screened enclosure structure.

Hurricane Deductible
Hurricane deductibles only activate when a hurricane makes landfall as a category 1 storm or higher. NOAA rates the hurricanes using the Saffir-Simpson Hurricane Scale.

There are two types of deductibles quoted on home insurance policies:

Percent-Based Deductible (2%, 3%, 5%, 10%)
Percentage-based deductible means that your deductible is a percentage of the coverage A on the policy.

Example:
$300,000 of dwelling coverage
2% deductible
You pay for the first $6,000 ($300,000 * 2%) of damages to your home before the insurance company steps in. In Florida, these % deductibles are attached to special perils, like a Hurricane Deductible or Wind/Hail Deductible.

Dollar-Based Deductible ($500, $1,000, $2,500, $5,000, $10,000)
You pay a set $ amount anytime you file a claim, and the insurance company pays that claim. The most common deductible is $1,000.

Example:
$300,000 of dwelling coverage
$1,000 deductible
You pay for the first $1,000 of damages to your home before the insurance company covers repairs.

Roof Coverage: Replacement Cost or Actual Cash Value
An asphalt shingle roof should be replaced once every 20 years. If you have an older roof, your home insurance policy may only cover the roof at Actual Cash Value (ACV). This means you aren't getting a full reimbursement on your roof in a claims scenario.

Example: Your roof is 19 years old, and you have a hail storm that damages the roof beyond the point of repair - you now need a new roof. The insurance company is not going to cut you a check for a brand new roof if it is covered at ACV, because you were going to have to replace the roof in the next 5 years even without the storm. They will give you a check that represents the remaining useful life of your roof. If the roof is 19 years old, has a 25-year useful life, costs $15,000 to replace, and you have a $1,000 deductible, you are only going to get a check for (25-19)/25*15,000 - $1,000 = $2,600. If your roof is covered at Replacement Cost, you are getting a check for $15,000 - $1,000 = $14,000. In this common example, the Replacement Cost Coverage on your roof was worth an extra $11,400.

Animal Liability
There are plenty of dangerous dogs in Florida. We know, bad dogs are usually not a function of the breed, but a lousy owner. However, insurance carriers do not have a way to change pricing based on the quality of the dog owner yet, so they use dog breed as a rating factor in their pricing models. As the average dog bite claim is ~$35,000, you may want to check if animal liability coverage is being excluded on your policy if you are a dog owner.
4. Insurance carriers offering coverage in Kissimmee, FL
Many carriers are competing for your business in Kissimmee, FL. Home insurance carriers rate on many different risk factors, so it is best to check multiple carriers to see which carrier is the best match for you. Regardless of what carrier you choose, at least consider the following:
Financial Stability Rating - AM Best or Demotech, most carriers in FL are rated by Demotech due to the Citizen's buyout program after Hurricane Andrew.
Experience in the local market - how long have they been insuring Kissimmee homes?
Online Reviews on claims and customer service experience
Top home insurance carriers in Kissimmee, FL:
5. Calculator for home insurance quotes in Kissimmee, FL
A home insurance calculator requires many inputs as insurance carriers rate on hundreds of factors. Most of these rating factors usually fall into three main rating categories:
Property features (location, age, heating, etc.)
You and your family (credit history, claims history, pets, etc.)
Coverage limits and endorsements (deductibles, water backup, replacement cost, etc.)
To get accurate quotes: fill out my custom online home insurance application. Young Alfred does not call or sell your information. We have built an advanced quoting engine that generates the top home insurance quotes in your area, customized for you:
Get Home Insurance Quotes in Kissimmee FL

Hope that helps!
At your service,
Young Alfred