Home Insurance McKinney TX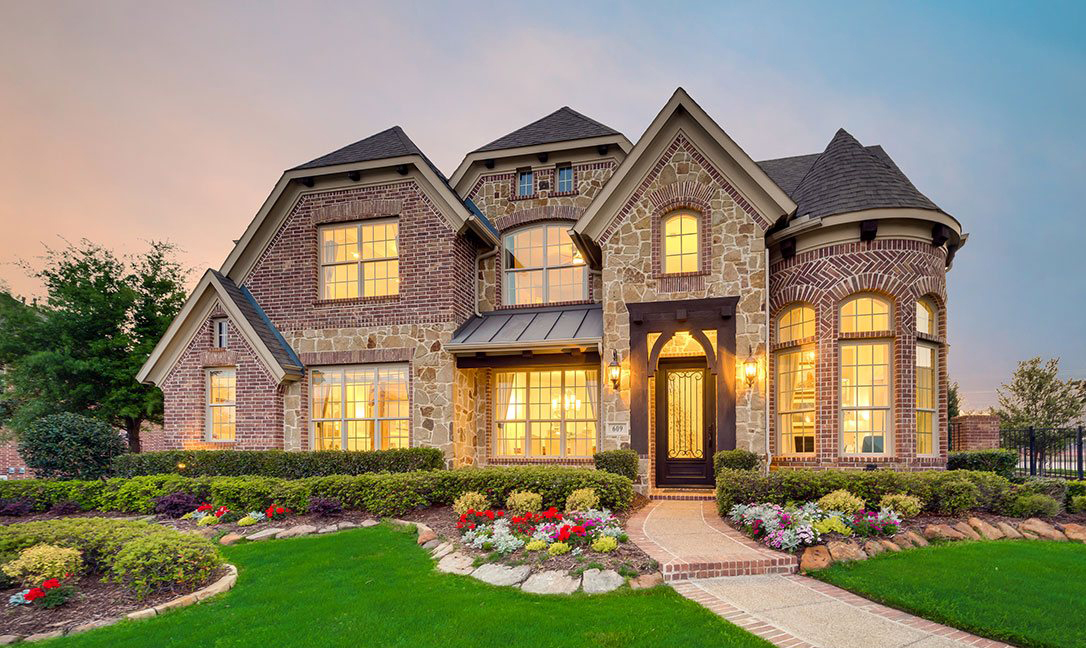 Home Insurance - McKinney, TX
Homeowners in McKinney know finding the best home insurance isn't always easy. Your home is often your most valuable asset, so it pays to make sure your home insurance adequately covers you. That's why we built this helpful guide for those looking to review or buy home insurance:

1. The average cost of home insurance in McKinney, TX
The best strategy for finding cheap home insurance in McKinney is making sure you get all the home insurance discounts you deserve.

We search for all discounts for our customers for free. Most customers that use Young Alfred in McKinney pay between $1,286 and $2,673 per year for their home insurance coverage.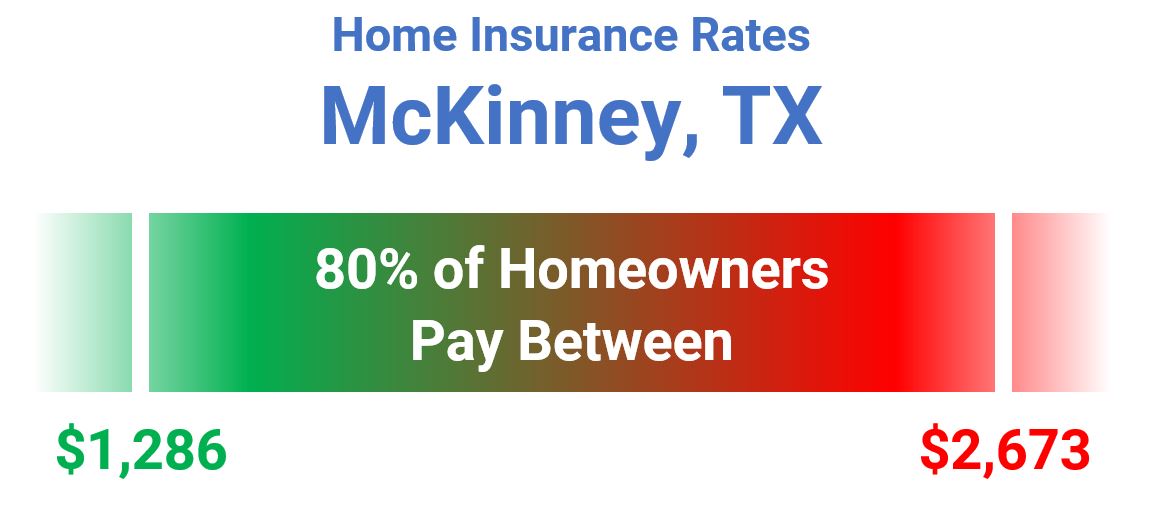 The average home insurance in McKinney is $1,921.12. This annual rate will change as the cost to rebuild your home increases. As your home goes up in value, you need more insurance coverage, which also costs more. You should be happy to get coverage below $1,286/year in McKinney and expect to pay an extra $184/year for every $100,000 increase in your home's value.

Home Insurance Rates in McKinney, TX vs. Home Rebuild Cost


Home insurance rates data generated from the following zip codes: 75013 75069 75070 75071 75072 75454
2. Common home insurance claims in McKinney, TX
McKinney has a high risk of tornado and hail damage. Here is an example risk report for a McKinney home address.

McKinney, TX Home Risk Report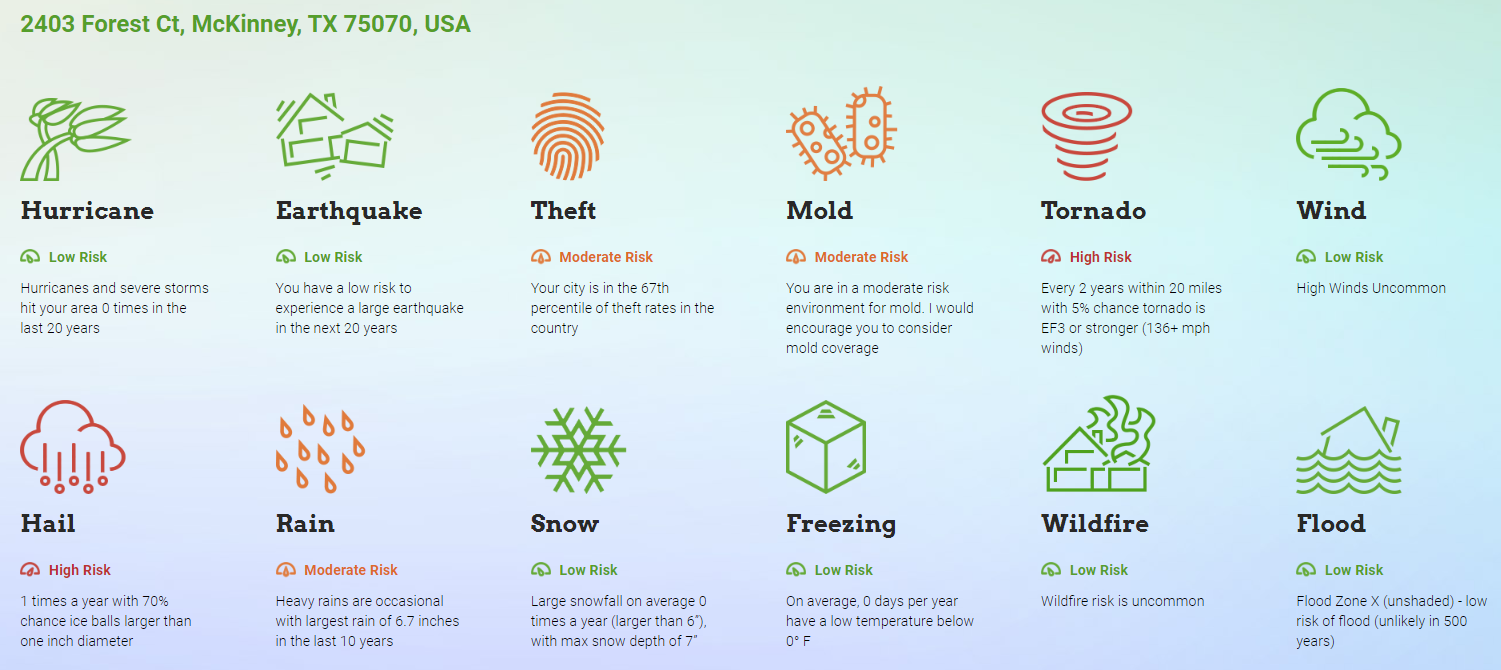 Source: Home Risk Report
When a type of claim is more common in a specific region, you will find more insurance carriers begin to carve away that coverage. Texas is known for many wind claims, and so carriers in the area offer high wind deductibles by default. Reducing coverage gets back to the primary driver of consumer purchase behavior: Price. If you do choose the cheaper policy, make sure you aren't sacrificing valuable coverage just to save a few bucks.

3. Coverage details of your home insurance policy
Each homeowner should understand the six major coverage categories.
Coverage A: Dwelling - covers your primary building structure.
Coverage B: Other Structures - covers any structures on your property not attached to your primary home's structure.
Coverage C: Personal Property - covers your personal belongings with special sub-limits for specific categories.
Coverage D: Loss of Use - if you can't live in your home after a covered loss, this helps cover your cost of living somewhere else.
Coverage E: Personal Liability - if someone sues you for something that happened on your property, this will kick in to defend the lawsuit and payout on damages charged in the case.
Coverage F: Medical Liability - if a guest injures themselves on your property, this can cover the guest's medical expenses from that injury.
More importantly, homeowners in McKinney, TX, should know the five specific coverage details of their home insurance policy:
4. Insurance carriers offering coverage in McKinney, TX
Many carriers are competing for your business in McKinney, TX. Home insurance carriers rate on many different risk factors, so it is best to check multiple carriers to see which carrier is the best match for you. Regardless of what carrier you choose, you should at least consider the following:
Financial Stability Rating - AM Best or Demotech
Experience in the local market - how long have they been insuring McKinney homes?
Online Reviews on claims and customer service experience
Top home insurance carriers in McKinney, TX:
| | | | |
| --- | --- | --- | --- |
| Insurance Company | Financial Stability | Experience | Online Reviews |
| Progressive | AM Best A+ | Experienced | 4 stars |
| Hippo | AM Best A- | New | 5 stars |
| State Auto | AM Best A- | Experienced | 4 stars |
| Travelers | AM Best A+ | Experienced | 5 stars |
| SafeCo (Liberty Mutual) | AM Best A | Experienced | 4 stars |
| Encompass (Allstate) | AM Best A+ | Experienced | 5 stars |
| Foremost (Farmers) | AM Best A | Experienced | 3 stars |
| Mercury | AM Best A | Experienced | 4 stars |
| USAA | AM Best A++ | Experienced | 5 stars |
| State Farm | AM Best A++ | Experienced | 4 stars |
| Stillwater | AM Best A- | Experienced | 5 stars |
| Velocity | AM Best A | New | 4 stars |
| Towerhill | AM Best A- | Experienced | 5 stars |
| Lighthouse | AM Best A- | New | 3 stars |
5. Calculator for home insurance quotes in McKinney, TX
A home insurance calculator requires many inputs as insurance carriers rate on hundreds of factors. Most of these rating factors usually fall into three main rating categories:
Property features (location, age, heating, etc.)
You and your family (credit history, claims history, pets, etc.)
Coverage limits and endorsements (deductibles, water backup, replacement cost, etc.)
To get accurate quotes: fill out my custom online home insurance application. Young Alfred does not call or sell your information. We have built an advanced quoting engine that generates the top home insurance quotes in your area, customized for you:

Get Home Insurance Quotes in McKinney TX
I hope that helps!
At your service,
Young Alfred