How to compare home insurance coverage side by side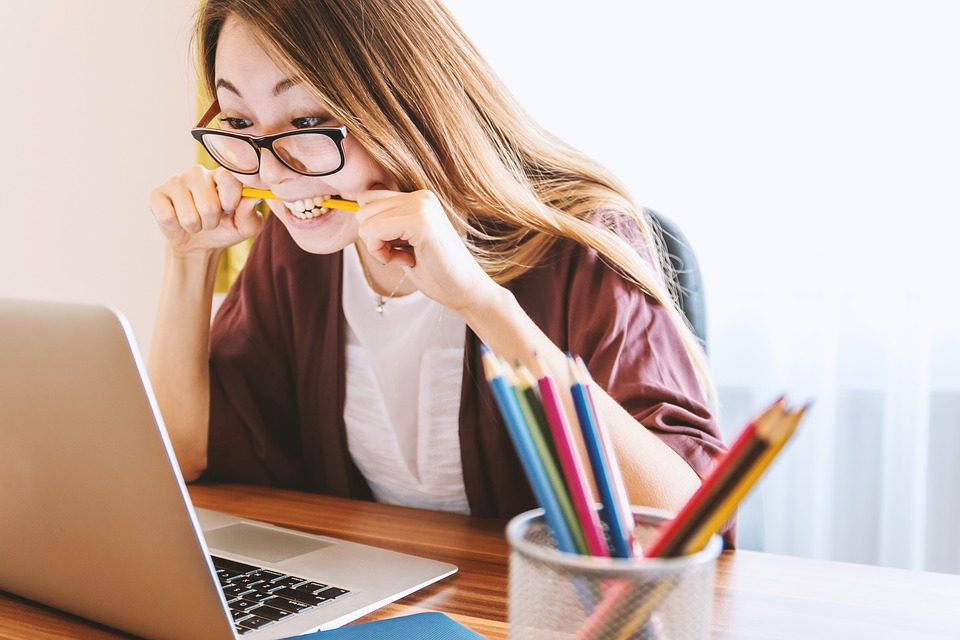 How to Compare Home Insurance Coverage Side by Side

Choosing home insurance coverage will be one of the most important purchasing decisions you'll make after getting yourself a new home. Home insurance will make sure your assets remain protected, such as the home you live in, personal property found inside the house, plus legal and medical bills if someone becomes injured on your property. Mortgage lenders require home insurance before they are allowed to lend to you, so it's best to do your research.

To compare home insurance coverage side by side, you need:
Coverage Limits
Special Sub-Limits
Exclusions
Special Deductibles
Price
Home insurance policies are dense, often with over 50 pages of legal language. Here are the most critical coverage types you should be comparing in a home insurance quote: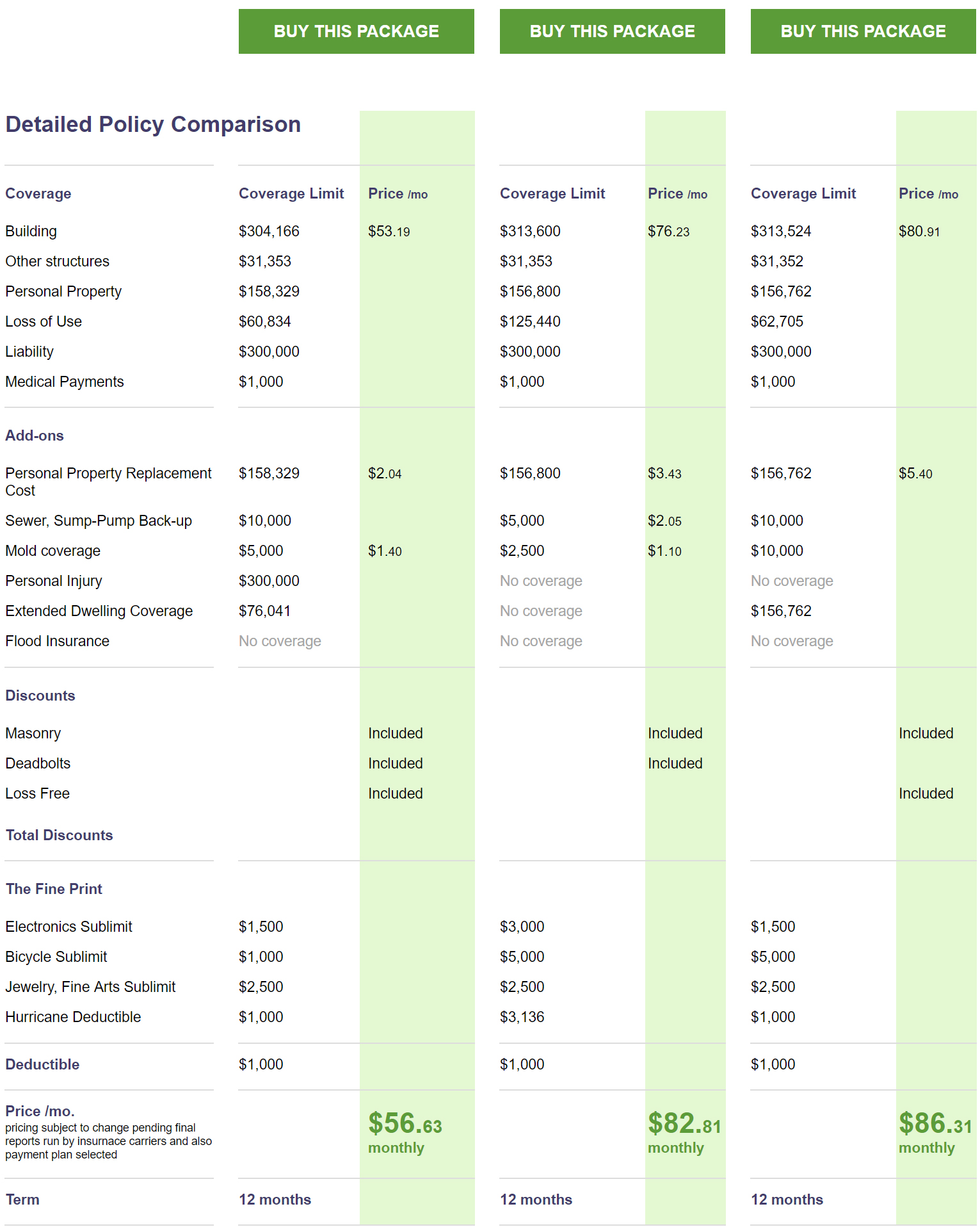 The Coverage

Choosing the appropriate home policy would be a simple affair if the price of the policy were the only factor to consider. However, you must also evaluate coverage types, limits, and deductibles before deciding which policy to purchase.
Understanding the many dangers that homeowners insurance can help cover is the reason why we get insurance in the first place, correct? By getting a policy from an insurance company, you can design homeowners coverage to suit your needs, including the protection of your home, guests, and personal liability, among other things.
Find time to gather every piece of homeowner paperwork you've signed or filed away, including your mortgage statements. Ideally, update or build an up to date home inventory of all of your belongings (such as appliances, electronics, furniture, clothing, jewelry, recreational equipment, and more). Extra credit if you have a home appraisal report conducted recently and receipts for any major house renovations. Having every one of these items on hand can help you narrow down the coverages, limits, and deductibles that are best for you.
While some policies may be cheaper per month than others, it's still crucial for you to read the details about each quote you receive, as you might discover one offers better coverage options, limits, or deductibles than the other three.
That's why you must compare the coverage apples-to-apples when you're getting quotes, so you can decide on which policy manages to provide the help you are looking for and get the most out of your money's worth.
The most significant coverage lines you want to check are:
Your house - Coverage A - Building
Set this limit to enough coverage to rebuild/replace your home if it burns to the ground. It is NOT the market value of your home, but the cost to rebuild it from the ground up.
Extra buildings - Coverage B - Other structures
This coverage will kick in for certain types of damage done to other structures or buildings on the residence's property that does not involve the dwelling place. Example structures would be a detached garage, work shed, or fencing. Coverage B does not offer coverage for the land, a structure used as a storage place for business-related material, or structures that have been rented or held for rental to any person who is not a tenant of the dwelling. Using this coverage will not limit Coverage A in any way, so you can stack them if you need to.
Your belongings - Coverage C - Personal PropertyAll your worldly possessions: clothes, furniture, fridge, TV, rugs, artwork, etc. There are special sub-limits in Coverage C to pay attention to for categories like jewelry, computers, and bicycles. (see Special Sub-limits below)
Temporary relocation - Coverage D - Loss of Use
If your house becomes uninhabitable due to a peril covered on your policy, Coverage D kicks in to cover your expenses of living somewhere else. For example, if a pipe bursts on the top floor and floods the entirety of the home, making the house unlivable, you would need to live out of a hotel while repairs happen. The loss of use coverage will reimburse you for the expenses that were caused by this problem, including food, lodging, gas, and essential household items. If your home becomes unlivable by a peril not covered by your policy (like a flood), this coverage would not be available.
Your liability - Coverage E - Personal Liability
In America, we take pride in the right to sue anyone for anything. Josh might be your best friend today, but see what happens when he slips on the ice in your driveway and can't walk for three months. Hopefully, you are never on the receiving end of a lawsuit, but just in case, make sure you have liability coverage to protect your entire net worth. If you have more than $500,000 in net worth, also buy an umbrella policy - incredibly affordable for the extra layer of protection it provides.
Your health - Coverage F - Medical Payments to Others
This one covers medical expenses. Coverage is limited to the number of people and accidents for injuries occurring on your property to persons other than an insured, or elsewhere, if caused by you, a family member, or any of your pets. A crucial aspect of this coverage is that payment will be made regardless of legal liability.
How much property coverage does someone need?

It can take a person multiple years to fill their home with everything they've ever wanted, so it's essential to have some sort of coverage to replace these belongings in case the worst happens. You can use your home insurance as a benchmark for how much property coverage you should consider purchasing.
For instance, homeowners will usually resort to getting around 25% to 50% of their Dwelling Coverage A to safeguard their valuable items. If your home is insured for a total of $250,000 dwelling coverage, then you'll want somewhere around $75,000 - $125,000 in personal property coverage. If you have a large list of belongings, that percentage amount will likely need to be even higher.
If any of your belongings are extremely valuable, such as fine jewelry, collections of art, antiques, coins, or even wine, you may want to consider looking into getting the coverage that deals with these items. Covering your property will ensure these items are safeguarded for the amount they are worth without having to increase your premium to an absurd rate.
The Special Sub-Limits

Each policy has about 10-20 special item categories in Coverage C that are only covered up to a specific limit. A standard homeowners insurance policy has limits on the following categories: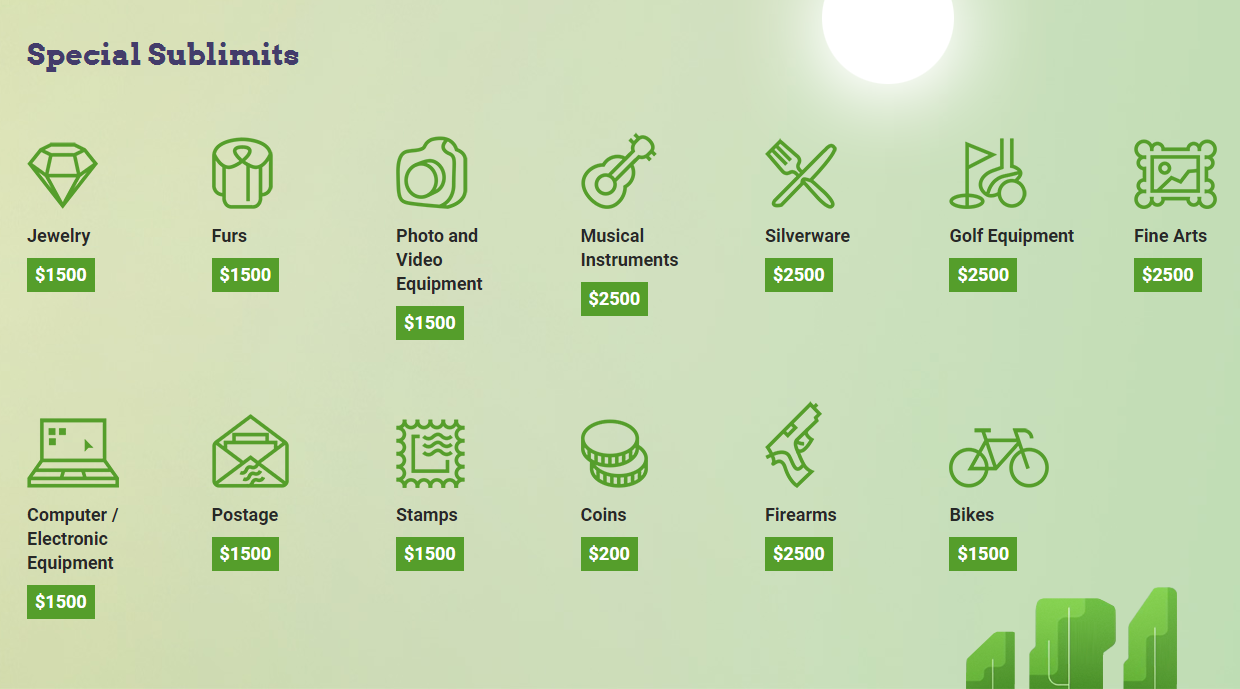 If you have high-value items in any of these categories, you should consider adding an endorsement to your policy that increases your coverage limit. For a high-value item, like an engagement ring, you can also schedule an individual item.

The Exclusions
There are many exclusions on a home insurance policy. Some exclusions can't be added and are never really covered: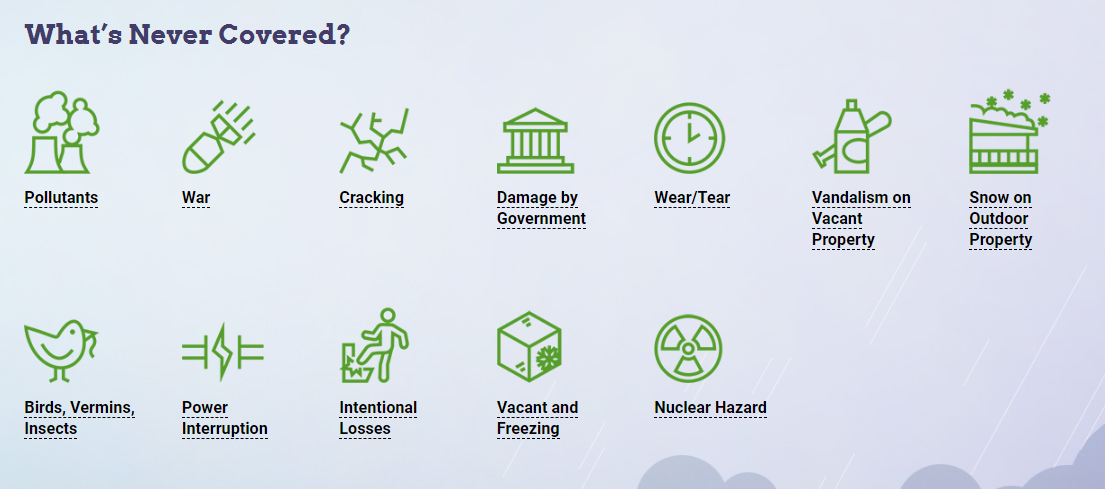 War and Nuclear Hazard - A straightforward one, losses that happen because of war and nuclear hazards are excluded from your coverage.
Damaged by Government - This exclusion deals with the United States government. If the government has decided to do something that can lead to a loss, it'll be excluded from your insurance coverage, unless the government action happened because of a named peril. You should also be aware that in terms of personal liability, most of the exclusion will have to deal with vehicles and other miscellaneous reasons such as engines if you are the one in the driver seat.
Intentional loss - Home insurance carriers don't want you to use your policy as a piggy bank. Your policy never covers intentionally damaging property or your house.
Neglect - A close relative of intentional loss, if you don't carry out simple upkeep tasks to maintain your property, then the insurance company will consider it neglect. For example, if you ignore that rotting tree in your back yard for months and one day it falls onto your roof, you may not get a payout.
Power interruption - This excluded coverage is quite specific on how it works. Put simply, if a power failure causes loss to items or structures not located on your property (even if it is considered a result of peril), it will not be covered.
Birds, Vermin, Insects - Any type of damage from nasty critters you can think of from bed bugs, termites, mice, and any other vermin are excluded from home insurance for similar reasons mentioned in loss and neglect. As far as the insurance company is concerned, dealing with this growing infestation and fixing the damage left behind is a part of your duties as a homeowner to maintain your property and keep it in good condition.
Wear and Tear - Home insurance is designed to take care of any sudden or accidental situations that occur, such as storms, stolen property, and fires. But that doesn't make it a cure for the usual wear and tear you expect a home to experience. As the owner of the home, it's expected of you to perform necessary maintenance to make sure your house doesn't fall into disrepair. Maintaining your home's roof and exterior, replacing any missing roof shingles, and dealing with any slow-leaking pipes are just some of the few examples of issues you should be handling yourself as the homeowner.
Cracking - This is a tricky one. Similar to wear and tear, it's your responsibility to make sure your home is up to date as long as you live there. If cracks begin to appear somewhere in your home, then for all intents and purposes, it's your responsibility to deal with it. Your insurance company will not provide coverage for cracks.
Pollutants - Home insurance won't provide any coverage for accidents that deal with pollutants of any sort, especially if they result from regular business operations.
Vacant and Freezing - Home insurance companies tend to have their own set of rules about how long a house is vacant for it to be considered unoccupied. Carriers will cancel coverage if the home enters an unoccupied state. That's because whenever a residence becomes empty the property gains a higher chance of getting damaged in some way. For instance, if the roof springs a leak or the plumbing backups, extensive damage will potentially happen because there is no one on the property to close the water or perform essential maintenance to the place.
Some exclusions that CAN be purchased as add-ons to your policy: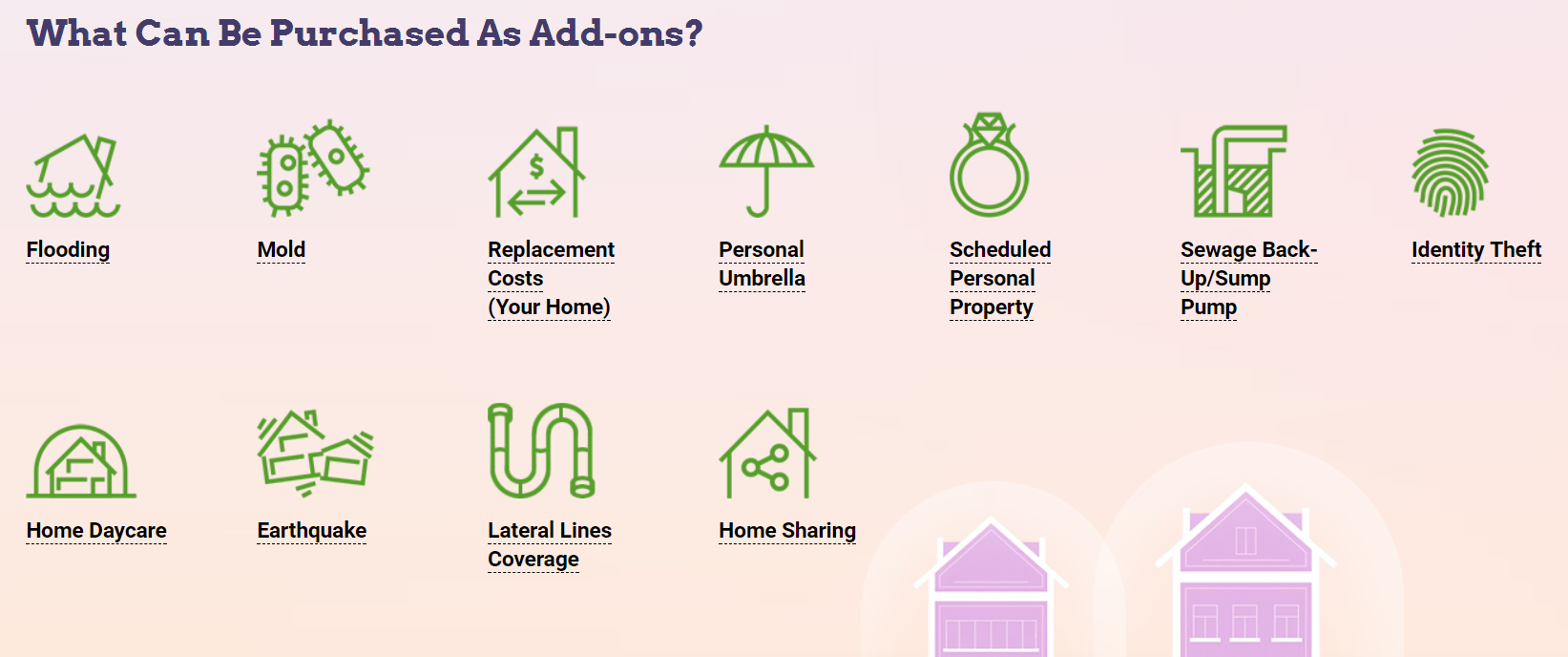 Flooding - Flood insurance always needs to be purchased as a separate policy. About 80% of flood claims from FEMA happen in a high-risk flood zone while 20% of flood claims come from a medium/low-risk flood zone. Check your own flood zone risk in my free risk report. If you need flood insurance, make sure you also evaluate private flood insurance. The cost of flood insurance can vary widely based on your flood risk zone.
Sewer Backup/Sump Pump or Water Backup - A typical "gotcha" in a home insurance policy. If the water backs up in the sink or toilet and overflows, damaging your property, you are out of luck, unless you buy this optional add-on. Expect it to cost ~$10/mo extra for $10,000 in coverage.
Lateral Lines Coverage or Service Line Coverage - This covers the service lines between the street and your home. Let's say a tree root grows through a sewer line located on the property. You have to dig up the sewer line and replace it at the cost of $6,500. This add-on will cover this type of damage, and it is very affordable at around $3/mo.
Mold Damage - Usually excluded and can be purchased as an add-on, but very expensive. Mold tends to do a lot of damage if left unfound as it can get into the structure and foundation of a home. Often hard to justify this purchase, but an extra reason to check for leaks often and early! (Fun fact: some states, like NJ, require $10,000 in basic fungi, mold, rot coverage)
Replacement Cost (Your Home) - Some companies will offer a Replacement Cost Coverage for an additional premium. To find out if this is available with your company, ask your agent to explain the advantages of getting this coverage. Although, this typically does not factor any depreciation when reimbursing you for stolen or damaged personal belongings. What it will do is pay to replace these items with new, similar items, depending on the limit of your coverage.
Earthquake Damage - Unfortunately for some, no standard insurance policy, even the homeowner's policy, will include coverage for the immense damage that can be caused by an earthquake. For an additional premium, some companies will offer you earthquake coverage with your homeowner's policy that will safeguard you in case your home does become damaged from an earthquake. In specific locations, this type of coverage is usually inexpensive and is worth considering.
While Earthquakes can potentially happen in all 50 states, some locations will be dealing with them far more often. Earthquake coverage becomes far more critical for homeowners in high-risk areas. High-risk is highly relevant for anyone living on the western side of the United States since residents are usually aware of the risk and sometimes require this insurance. It's not just California, either. For instance, Oklahoma was experiencing substantial amounts of earthquake activity during 2015, due to either the increase of fracking or hydraulic fracturing.
Home Daycare - Home daycare is coverage designed to help the needs of small at-home daycare providers. The daycare coverage will offer some limited property and liability coverage that, when included in your policy, will make it into an extension of your homeowners insurance.
A standard home insurance policy doesn't cover home daycare, so you'll need to ask the company if they can include this daycare coverage if you want coverage for liability moments. An obvious example would be a child slips and has an accident. Additionally, it can cover property used for daycare: such as fire destroying the equipment used in the daycare.
Personal Umbrella - Being able to offer extra protection for family members and assets is a huge priority. A personal umbrella is a type of insurance policy that includes additional liability coverage over and above another insurance policy, such as homeowners insurance. Personal umbrella insurance helps protect your net worth from massive or potentially catastrophic liability claims or judgments. Personal umbrella coverage will come into action whenever your underlying liability limits are exhausted.
Scheduled Personal Property - Schedules personal property are supposed to help extend your coverage further than the standard protection that's provided by a homeowners insurance policy. By acquiring scheduled personal property coverage, you'll be able to make sure that every one of your expensive items, such as jewelry, has been completely covered in the case of a claim. The belongings you can expect to be considered for scheduled personal property coverage such as art, antiques, coin collections, expensive cameras, firearms, furs, jewelry, musical instruments, and stamps.
Identity theft - Identity theft insurance deals with some of the costs related to identity theft. This coverage will reimburse the victims for money spent reclaiming financial identities, and repair any credit reports. While policies do vary, usually, they can cover the costs of phone bills to legal help. Often they even provide a specialist who is capable of guiding you through the steps needed to restore your identity.
You should be aware that these policies don't pay for direct financial losses, such as money stolen from your bank account. It's possible for them to cap your coverage if your identity is stolen, or may lead to deductibles requiring you to hand over a few hundred dollars out-of-pocket before this coverage can be put into action.
Home Sharing/AirBnB - This insurance coverage is vital for people who are planning to use their homes as a rental place. Typically people who sign up for rental websites like Airbnb can significantly benefit from having this at their fingertips. Guests will be able to use these home-sharing websites to find your property and pay a nightly rate. The main advantage is that your property won't be licensed or regulated as a bed and breakfast or hotel.
As you can imagine, a visitor staying at your property places you at considerable risk. If a person renting your home damages or vandalized your property, you will be paying for the repairs, including any damage to common areas, such as a condo building. Furthermore, if the guest becomes injured while they are staying in your property, chances are you'll be the one who's responsible for their medical expenses.
Most homeowners insurance won't cover any accidents that occur from a short-term stay at your property. Moreover, if your homeowner insurance does include coverage for home-sharing, there still a chance that the insurance company can deny giving you coverage for this situation. The reason why: once a person has paid to stay at your property, it becomes a place of business. Homeowners insurance policies aren't rated to cover any commercial use of the property.

Special Deductibles

A deductible is the dollar amount you pay before the insurance company foots the bill on a claim. What people don't know is that home insurance policies can have two or more deductibles depending on the cause of damage. The most frequent second deductible is the Hurricane Deductible or Wind/Hail Deductible. These are often much higher deductibles than your regular deductible and get set to a percentage of your total building coverage. For example, a 1% deductible would mean 1% of your Coverage A. If your policy has $300,000 of coverage on your house and your Wind/Hail deductible is 1%, your Wind/Hail deductible is $3,000. (way above the standard deductible stated on the policy)
Hurricane and storm deductibles
For people who live in the areas of the country that tend to be hit by hurricanes, such as Florida and the many oceanside counties on the Atlantic coast, special hurricane deductibles can become activated and used for property damage claims that have been caused by a storm or hurricane phenomenon.
The activation behind these hurricane deductibles will vary from company to company and state to state based on the regulation on state insurance. The insurance company will wait until the National Weather Service has officially categorized the storm/hurricane.
If the risk of your home receiving damage from either a storm or hurricane isn't severe enough, you'll probably consider setting your deductible to be at a higher percentage to get a lower rate on your insurance premium. Be warned, having a large deductible and low premium plan can be quite expensive when disaster strikes.
Wind and hail deductibles
Just like the hurricane/storm deductibles, the wind and hail deductible can equal a percentage of Coverage A, rather than a set dollar amount. You can expect to find these kinds of deductibles in places like Texas, Colorado, Kansas, Nebraska, Oklahoma, along with some Midwestern states such as Illinois and Ohio.
How should someone choose their deductibles?
Most claims get paid under the same deductible, which is usually known as the all other perils (AOP) deductible. The AOP deductible comes into effect if another deductible is not specified. The catch-all deductible applies to a wide range of perils such as a tornado, house fire, burst pipes, and property theft. In each claim, you will pay the same fixed out-of-pocket amount, and your coverage will deal with the rest (up to your limit).
While the idea is simple to understand, deciding on the appropriate homeowner insurance deductible for you can be a much more complicated matter. Let's go over what you need to understand your potential payment.
High deductible
Let's say you choose to increase your deductible from $500 to $1,500. In a claims situation, this means you'll have to pay an extra $1,000 out of your pocket, which isn't great. However, that's not the full picture.
Increasing your deductible will cause your monthly premium plan to go down by as much as 25 percent, making it a smart way to save money on your annual home insurance bill. Consider the higher deductible as a reward today for handling even more financial responsibility in the coming future in case something does happen on your property. It also signals to insurance carriers you don't plan to file small claims, which cost everyone a lot of time and money without too much financial result. It's smart to hold back from filing for minor claims anyway as claims stay on your record for five years, you will likely just pay it back in higher premiums in the future. A higher deductible is a smart way to have your insurance track record stay clean and even help you for qualifying for exciting and helpful discounts.
Just remember that merely deciding on lowering your premium by increasing your deductible can be narrow-minded, especially if this leaves you open for financial problems in the future. Although, if you can be a responsible and financially well off homeowner with a low-risk home and lifestyle, choosing this path might be best suited for you.
Low deductibles
Let's say you decide on a $500 deductible. A low deductible can be a prudent decision to make. While your premiums will be a bit higher today, you avoid a more significant hit to your savings if something terrible does occur in the future.
If you live in an area where you know you will likely need to file a home insurance claim sometime in the next five years, why not pay an extra $5/mo today to save $500 on your deductible in the future. Additionally, you get the comfort of knowing your homeowners coverage is going to be handling the majority of the cost in a future loss.
If you are risk-averse or expect to deal with claims in the future, going with a lower deductible could be the path more suited for dealing with life's unexpected events.

The Price

As you can see above, there are many ways for an insurance company to reduce coverage to show a lower price. Certain coverage adjustments may not even be suited for your home or its location. That's why it's important to make sure the insurance company you are acquiring your home insurance coverage from is reliable and has a positive reputation with its customers.
Make sure you carefully scrutinize every single one of the coverages and select which one manages to meet your needs and handle your current financial position. Don't overextend your risk exposure just because you want to save a few dollars a month.
Your home insurance coverage should be able to help deal with many unforeseen and sudden damages that occur at your property, but not all. If you live in Florida, focusing on your hurricane and storm coverage would be wise, but if you live in Colorado, you may want to focus more on wind and hail damage. Every region is different, and home insurance coverage types can change from state to state.
The real question is what is the value in what you are buying. In the words of famed investor Warren Buffet: "Price is what you pay, but value is what you get."
Dealing with home insurance can be challenging to tackle alone. As you can see from this article, a lot of customization is available to you. Some policies you find may seem cheap on price, but will they safeguard your home? Honestly, it requires you to be diligent and look carefully at all the coverage types, or work with a home insurance expert like Young Alfred. Young Alfred gives you an accurate and easy side by side comparison of coverage for free.
At your service,
Young Alfred