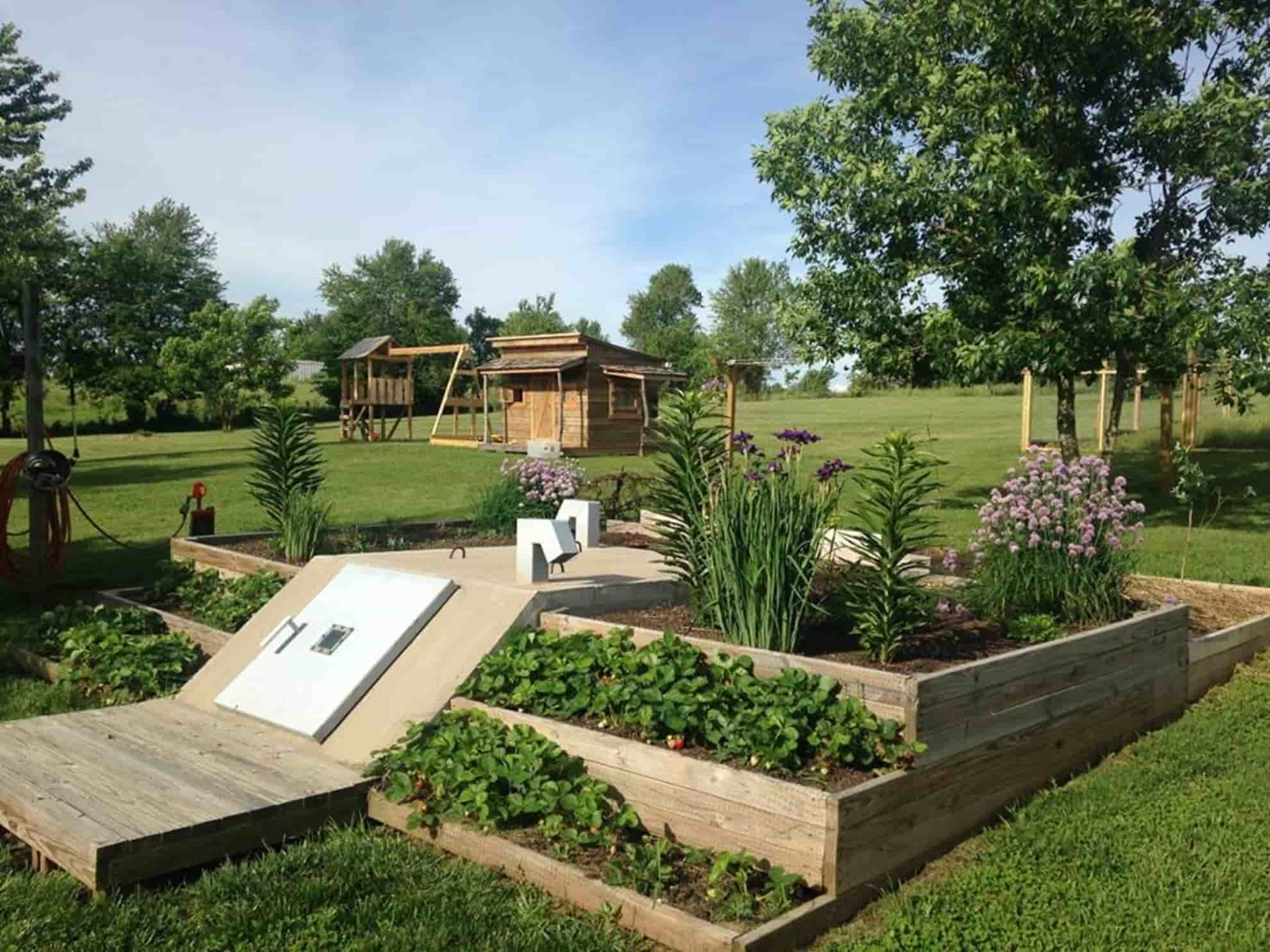 Underground Storm Shelter with Beautiful Landscaping • Photo Credit: Little Missouri Homestead

Storm Shelters

In this article:
• What is a Storm Shelter?
• What is a FEMA ICC 500 Storm Shelter?
• Tornado Intensity and Tornado-Prone Regions
• Storm Shelters vs. Safe Rooms
• Why Have a Storm Shelter?
• Interesting Statistics
• Build a Storm Shelter
• How to Buy a Storm Shelter
• Storm Shelter Prices
• Grant Money for Storm Shelters
• Types of Storm Shelters
• Materials and Construction Options
• Storm Shelter Companies
• How to Use a Storm Shelter
• Tips to Survive a Tornado
What is a Storm Shelter?
A storm shelter is a space above or underground designed to provide near-absolute life protection from extreme-wind events, such as tornadoes.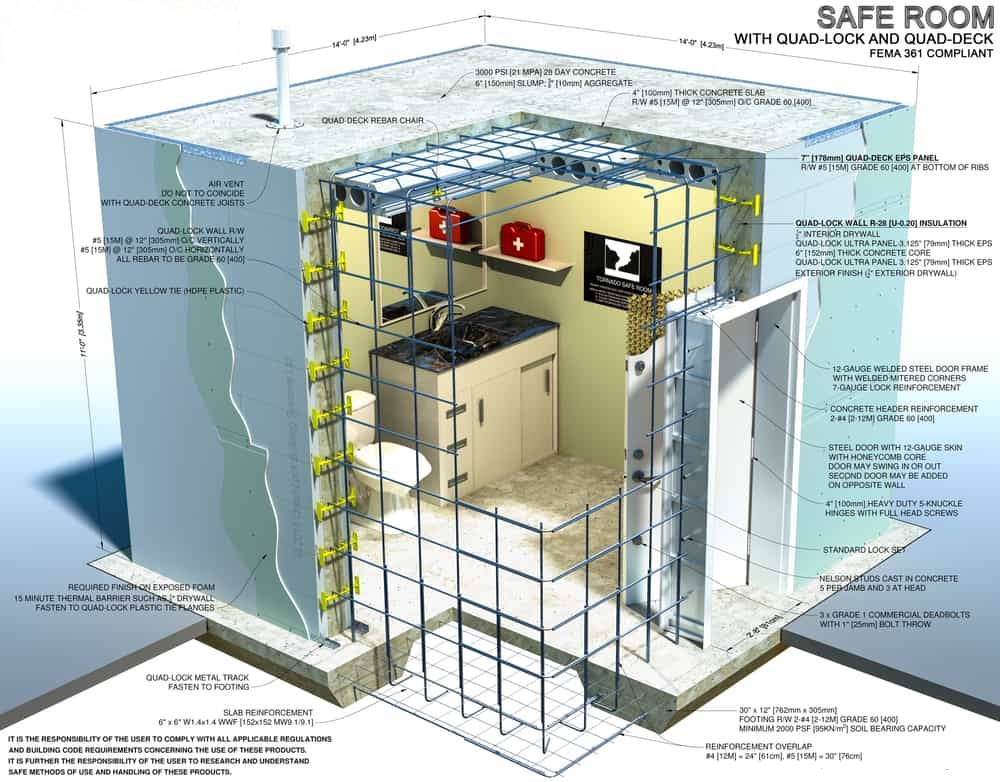 FEMA Safe Storm Shelter • Photo Credit: QuadLock
What is a FEMA ICC 500 Storm Shelter?
FEMA ICC 500 shelters, considered to provide the best protection, are designed to meet FEMA's ICC/NSSA Standard for the Construction of Storm Shelters (ICC 500). ICC 500 refers to the design, construction, installation, and inspection of residential and community storm shelters.
Tornado Intensity and Tornado-Prone Regions
A tornado's severity is categorized by the Enhanced Fujita Scale (EF Scale) below based on wind speeds. Roughly 86% of all fatalities from 1950-2013 resulted from tornados rated EF3 - EF5.
| | |
| --- | --- |
| EF Number | Wind Speed (3-second gust) |
| EF0 | 65-85 mph |
| EF1 | 86-110 mph |
| EF2 | 111-135 mph |
| EF3 | 136-165 mph |
| EF4 | 166-200 mph |
| EF5 | >200 mph E |
Source: NOAA ● EF = Enhanced Fujita ● mph = miles per hour
If you live in Tornado Alley or parts of the Midwest, you know you are at risk. If not, you may not be aware of the tornado history in your area. The National Oceanic and Atmospheric Administration (NOAA) has developed maps showing regions that historically had the highest number of violent EF3, EF4, or EF5 tornadoes from 1950-2013. You can also try this tool to get a wind risk report for your exact address.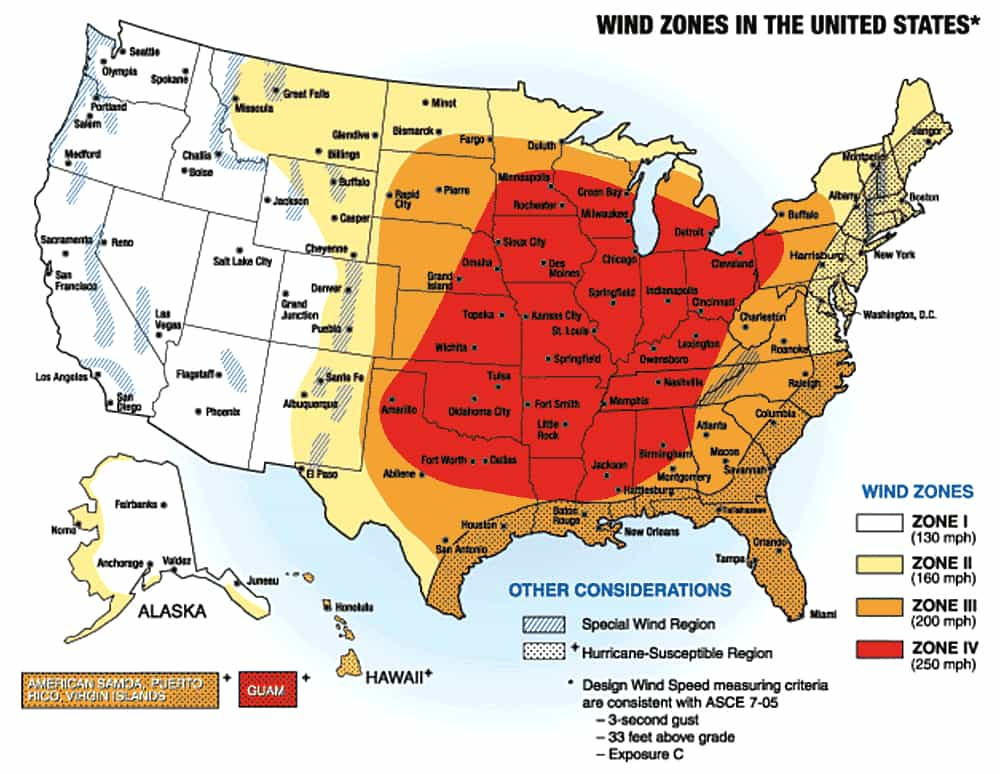 Storm Shelters vs. Safe Rooms
Two ways to stay safe are to shelter in storm shelters or safe rooms.
Storm shelters, also known as storm cellars, are usually thought of as below ground storm shelters. However, new technologies have spurred an industry for above ground shelters as well.
On the other hand, a safe room is an interior room used to protect families during a home invasion as they are bullet-resistant. Some people call them panic rooms, and they usually have the added benefit of built-in communications equipment. Many people do not know that an indoor safe room can double as a tornado safe room or storm shelter.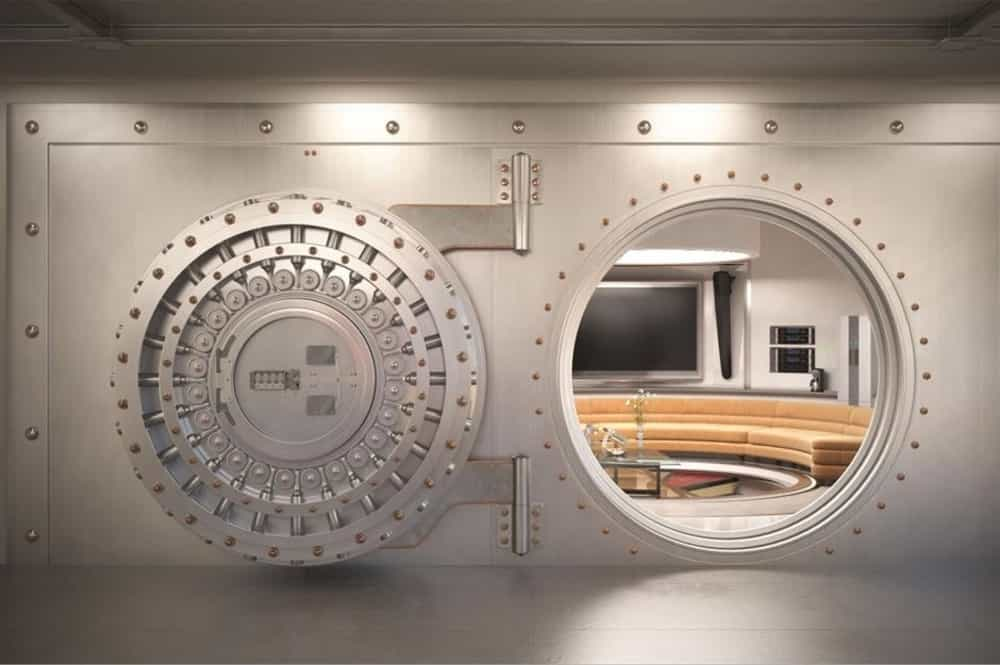 Modern Safe Room • Photo Credit: Ferrari Press/East News.
Safe rooms and storm shelters can stand up to high winds, some tout withstanding 250 mph E5 winds, and flying debris.
Why Have a Storm Shelter?
Pretty much every state in America is at risk of tornadoes, hurricanes, firenados, and heavy winds, which is why everyone needs a safe place to be in dangerous weather. Tornado risk is especially true in Tornado Alley.
Both tornado shelters and safe rooms provide four main benefits.
Safety
The most important reason to have a storm shelter is for the protection it provides. You have significantly greater odds of surviving severe weather when you have some form of shelter.
Peace of Mind
Have you ever worried about where you will go if a tornado hits your area? It can be scary to feel like you have nowhere and no way to protect your loved ones. Having a storm shelter can put an end to that worry.
Increased Home Value
It is certainly not the most critical reason; underground storm shelters can increase your home's value. Most people shopping for a home in a disaster-prone area look for features such as storm cellars and safe rooms for the safety they provide.
Discounts
Not all home insurance companies provide a discount for having a storm shelter. Most do not, but there are some out there that do. Also, be aware that some insurers do not cover tornados unless you have a wind and hail insurance policy or a wind and hail deductible. Ask your insurance agent about coverage and potential discounts.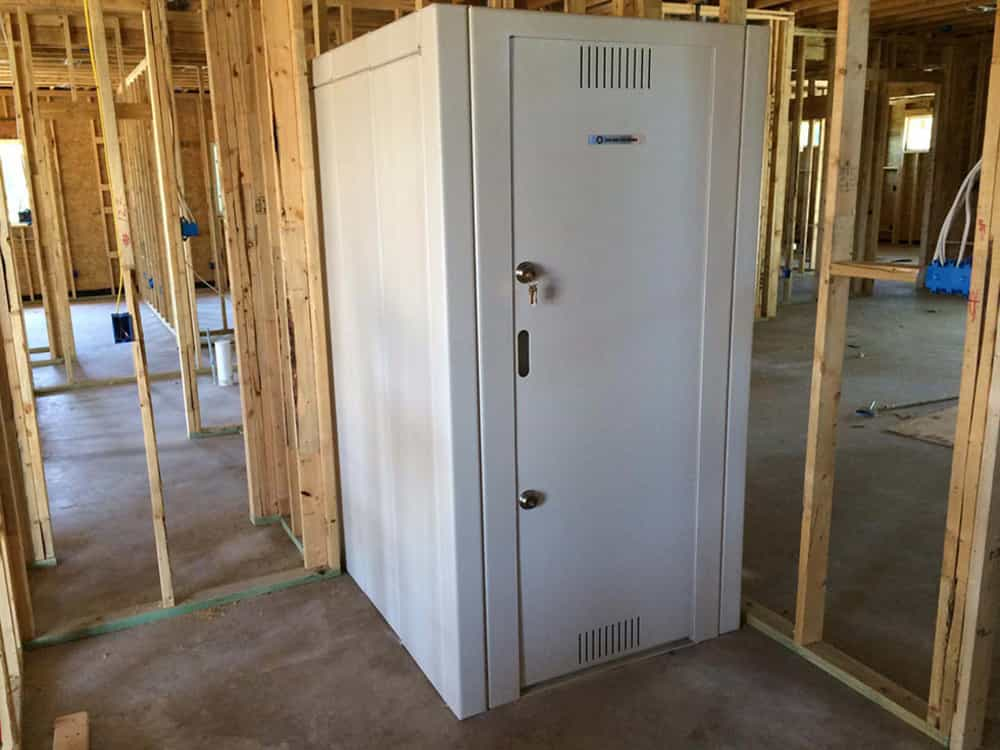 By April 2020, 73 people had been killed by a tornado. The 20-year average is 69 per year, and 1,500 injuries per year. We had already surpassed that only four months into the year.

Oklahoma is known for tornadoes, yet only about one-tenth of Oklahoma homes have a storm shelter.

Tornadoes can create damage over 50 miles long.

The Texas Tech University Wind Institute studied homes with safe rooms in the 2013 Moore, Texas tornado. The EF-5 tornado left death and destruction in its wake. Thirteen houses had registered their safe rooms. Of those 13, not one person inside their shelter was injured or killed.

In April 2020, a family purchased a new home that came with a safe room. A mere few weeks later, a tornado hit their new home, destroying almost everything in its path. They lost the house and their vehicles, but four are still alive and well thanks to their safe room.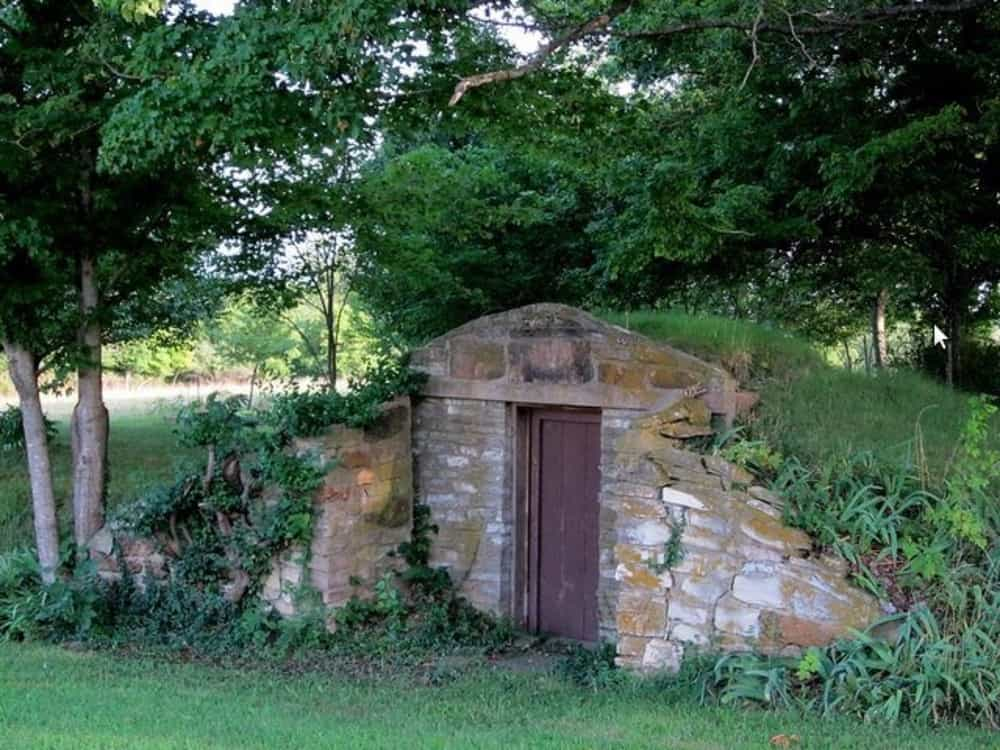 DIY Storm Shelter.
Building a Storm Shelter
It is entirely possible to build a storm shelter on your own that can withstand storms and strong winds if you have the right resources and materials. FEMA, the Federal Emergency Management Agency, provides clear instructions for building a storm shelter and information for building a safe room. Following those directions should give you a high level of safety.
Do remember that this is your safety -- potentially your life -- that you are trying to save. If, for any reason, you cannot build it according to FEMA guidelines or with durable enough materials, please consider buying a shelter from a company that manufactures and installs them instead.
How to Buy a Storm Shelter
Many companies sell several types of shelters. While shopping for a new shelter, keep in mind that going too cheap in this instance is putting yourself in more danger. Instead, it is critically important to consider the highest quality shelter than price since your life could depend on it. Be sure that you purchase one that meets the FEMA guidelines for storm shelters for the best results.
Most cities require that you get a building permit to buy a storm shelter while others require nothing. Contact your local code enforcement officer or building inspector to determine what you need.
Some cities ask that you register your storm shelter, and there is an excellent reason for it. If a tornado comes through and topples a tree on top of your shelter, you could get stuck inside.
When the storm passes and emergency services get out to check on the community, they will know precisely where your shelter is -- if it was registered -- and your registration can save you. Even if you do not live somewhere that requires it, be sure to let people know where the shelter is so they can find you later if need be.
Storm Shelter Prices
Shelters sell for $3,000 to $25,000, depending on the size, material, and features you buy. Most homeowners spend around $4,000 - $6,000.
Grant Money for Storm Shelters
Do not let money stop you from getting a storm shelter or safe room. FEMA reimburses up to 75 percent of shelter costs for those who qualify, not to exceed $4,000. Contact your State Hazard Mitigation Officers listed here for more detail.
Types of Storm Shelters
When you are ready for your shelter, there are several different types from which you can choose. There are underground, above-ground, and in-home shelters.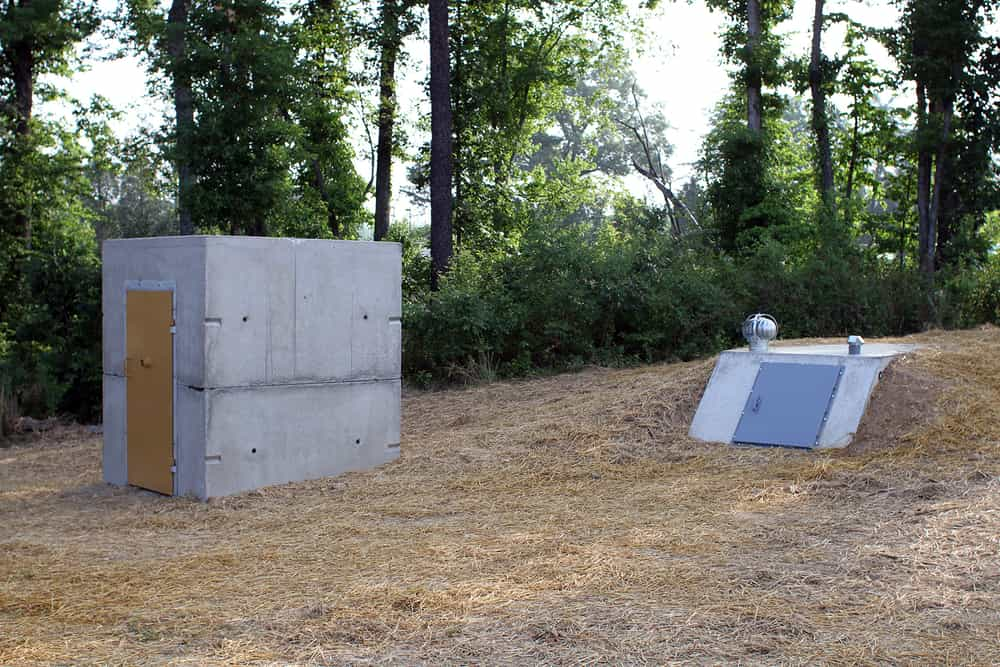 Above Ground Storm Shelter and In-Ground Storm Shelter.

That is also the case with safe rooms. They can be in a basement, inside your garage, or in a room in your house. The difference in each is in the materials used, communication devices, amenities, and their certification levels.
Underground Storm Shelters
If a tornado or other storm with high winds and flying debris strikes, an underground storm cellar is the best option. It is also referred to as an in-ground storm shelter. However, they are more challenging to reach since they are outside the home, and not everyone has the yard space needed to install an underground shelter.
Before you choose an underground shelter, you need to be sure that you are not in a flood zone. If you are, an underground shelter could be dangerous.
Also, keep in mind that it is difficult for some people to climb downstairs. If that is the case, an above-ground shelter is probably safer.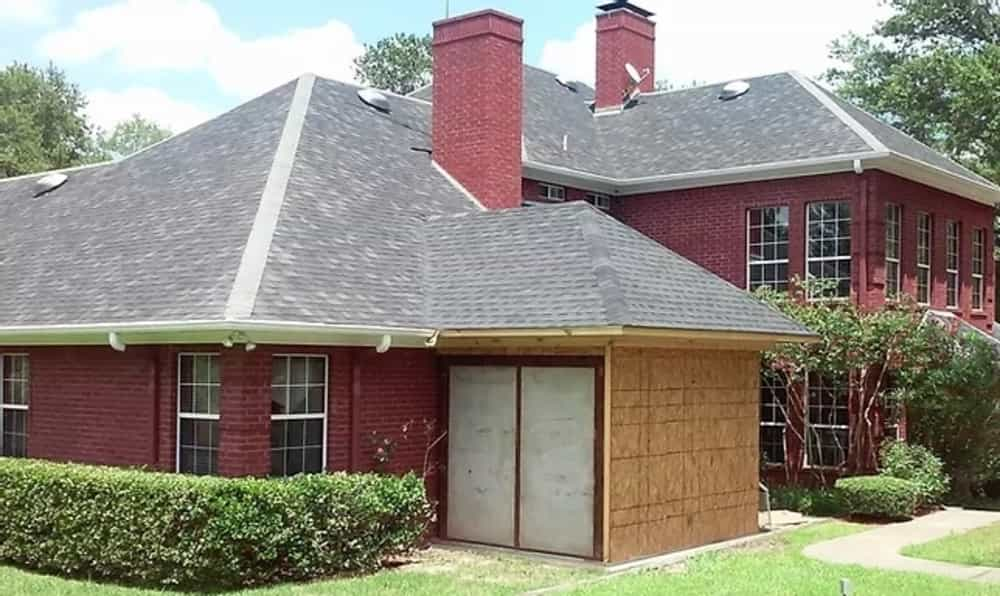 Above Ground Shelter Built Into a Home • Photo Credit: Forever Safe Shelters
Above Ground Storm Shelters
Above ground shelters are also considered safe rooms, but not always. While not underground, these options are still built to withstand severe weather. A safe room above ground is also easier to get to, making it the better choice if a storm is already upon you. You can install an above-ground shelter inside your home, garage, in your yard, in a shed, or anywhere.
Materials and Construction Options
Underground and above-ground shelters come in many different materials.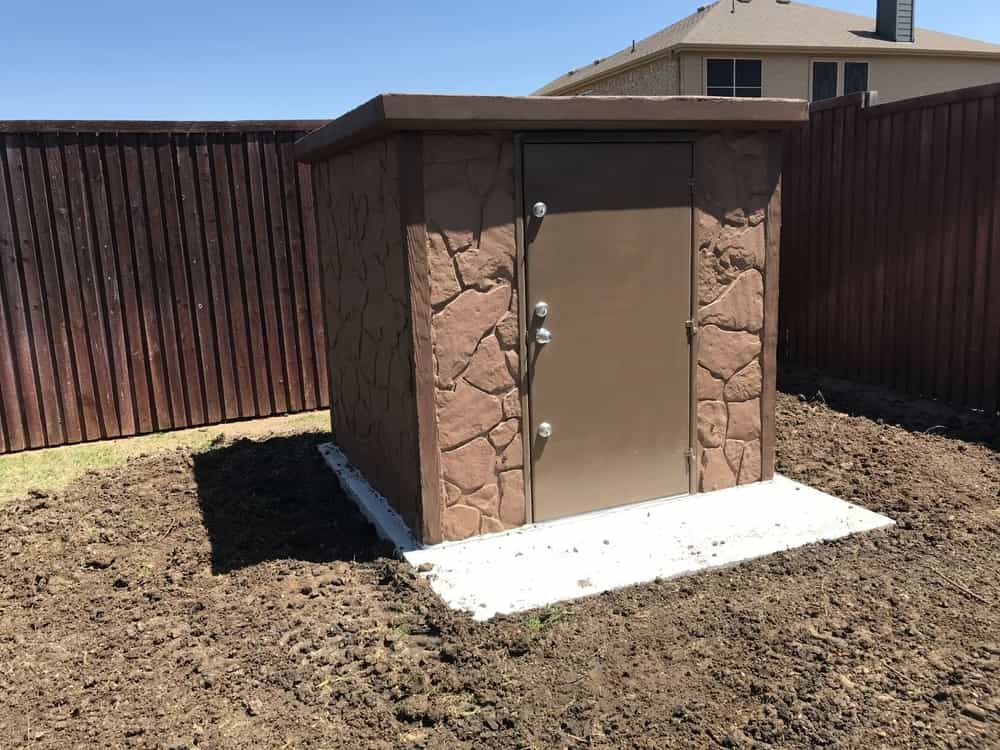 Above Ground Bullet Proof Storm Shelter.
Concrete Storm Shelters
A concrete tornado shelter is typically the most budget-friendly option. Unfortunately, concrete shelters are usually no more substantial than the homes that tornadoes can tear apart above ground. If your budget requires you to use concrete, be sure to get one with reinforced concrete, walls that are eight inches thick, and one that can stand up to 4,000 PSI. Otherwise, you will waste your money and still be at risk.
An underground concrete storm shelter is an excellent choice, although it is not the right choice for flood zones as floodwaters could seep through the walls.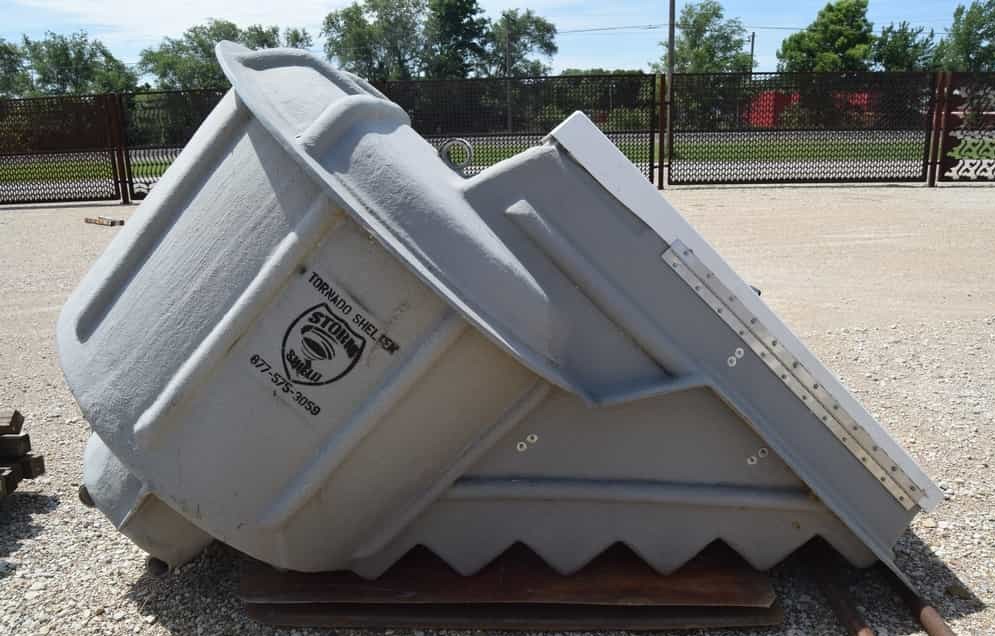 Fiberglass Storm Shelter with Stairs - Pre-Installation • Photo Credit: Purple Wave Auctions
Fiberglass Storm Shelters
Fiberglass tornado safe rooms or shelters are also budget-friendly, weigh less than other materials, and you can easily relocate them if you move. On the downside, a fiberglass above-ground safe room can crack and leak. Additionally, there have been instances when fiberglass in-ground models have floated out of the ground when the storm carries water.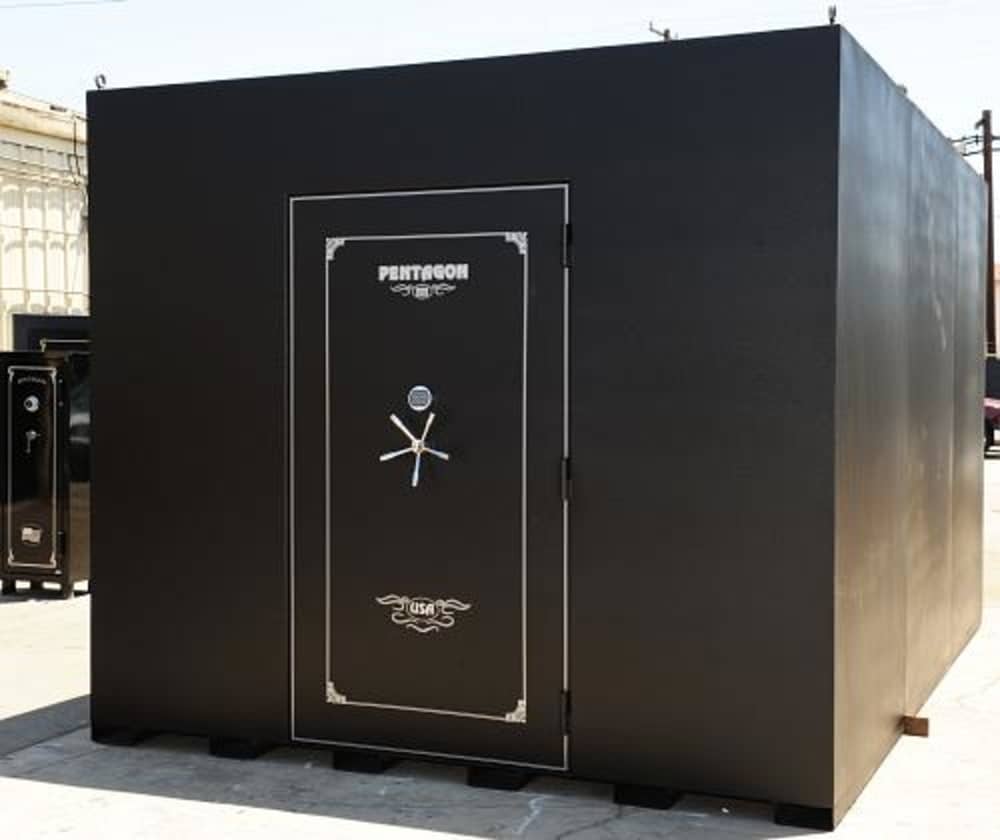 Steel Storm Shelter • Photo Credit: Pentagon Safes & Vault Door
Metal Storm Shelters
Steel storm shelters and safe rooms are typically the most durable option, but they can also be expensive.
If you choose an above ground storm shelter, it will likely be built inside a concrete bunker to reinforce it and keep it from moving during a storm.

Home Invention - Shelter for Mobile Home Made from a Trashcan for Woman and Her 89-Year-Old Mother.
Storm Shelters for Mobile Homes
Mobile homes are more prone to tornado damage than other homes. Even winds of just above 100 mph can damage a mobile home. If you live in a tornado-prone region and reside in a mobile home, the safest strategy is to get out, but it is not always possible.
If you have not found shelter away from your mobile home before a tornado warning is in effect, it is too late. Since storms can come about at any time -- sometimes seemingly out of nowhere -- having a storm shelter built below your mobile home, or underground nearby, is the best option.
While it is not FEMA safe, one clever woman made an affordable tornado shelter out of a trash can that she mounted underground with cement. We hope her next version has a safer entry and exit door!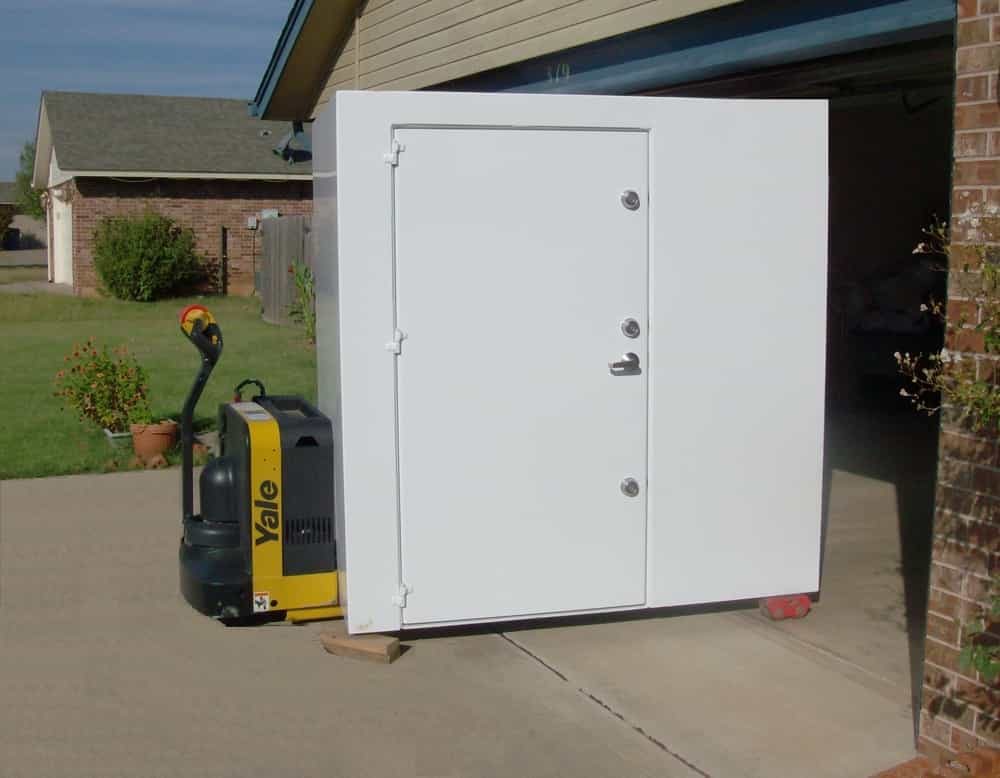 Portable Storm Shelter.
Portable Storm Shelters
If you are moving soon and concerned about spending money on a storm shelter, there is a solution. Many companies provide portable options now. They will either come to move it for you or give your contractor instructions to move it.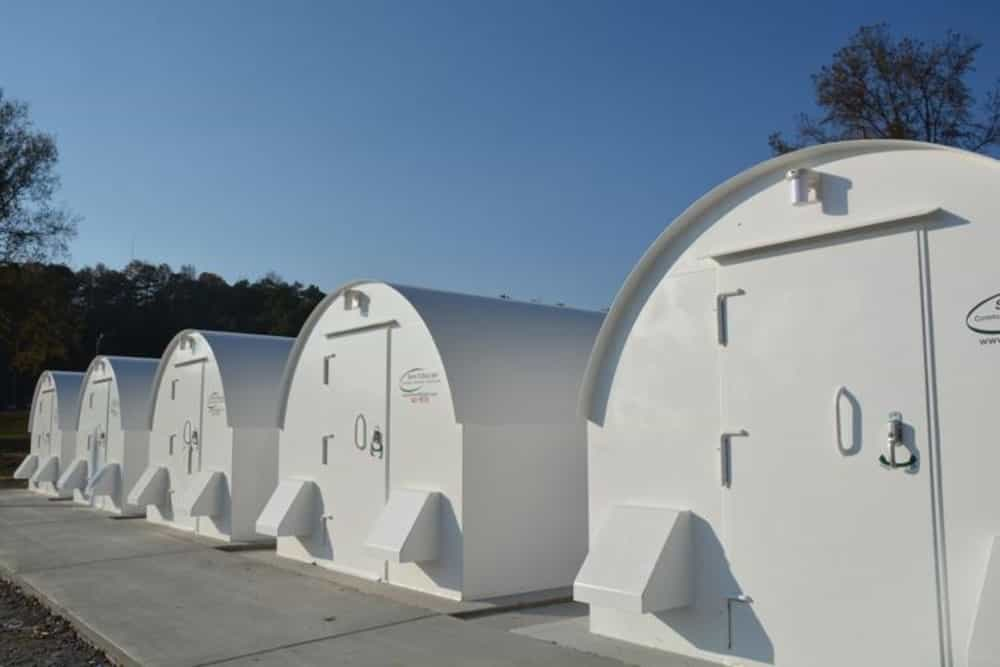 Community Storm Shelters • Photo Credit: Cullman Times
Community Storm Shelters
Most communities have one or more public storm shelters. These are the best options if you are already out and about when the weather hits. If you do not have a shelter or safe room at home, consider heading to your community shelter before the bad weather starts.
Storm Shelter Companies
Many companies sell storm shelters, including the following:
Storm Safe Shelters

. This company has been making storm shelters for several years, and they design their shelters to withstand an EF-5 tornado.


F5 Storm Shelters

. F5 Storm Shelters custom designs several shelter options made with solid steel frames. They are ventilated and have a bulletproof window, allowing you to see what is going on outside without risk.


Steel Storm Shelters

. Steel Storm Shelters designs its SafeRoom product to attach to your garage or patio's concrete slab or patio, preventing it from being carried away. They construct the room with thick plate steel walls and a steel door that opens inward to prevent debris from keeping you locked in.


SafePorch Storm Shelters

. SafePorch creates watertight shelters for porches, decks, and manufactured homes. SafePorch makes their shelters with a mix of steel mesh screens, rebar, and concrete.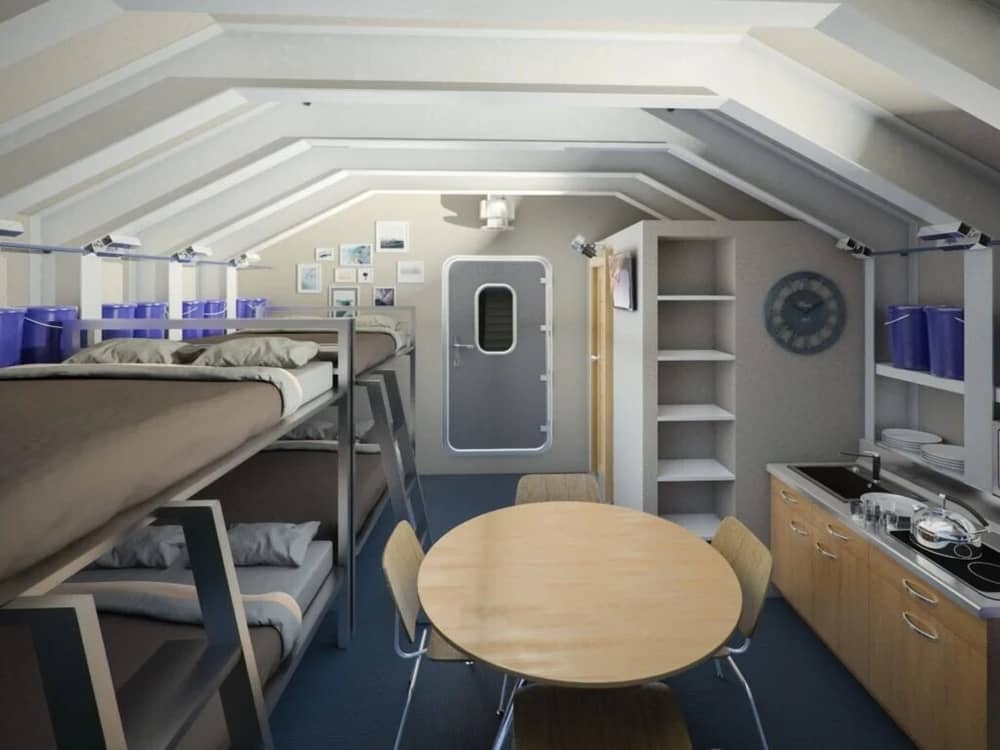 Interior of an underground shelter model • Photo Credit: Norad Shelter Systems.
Stock It
Before you ever need to use your shelter, you should stock it with necessities, including:
First aid kit
Flashlights
Radio, preferably a weather radio
Extra batteries and other power supplies
Nonperishable food and water
Any items you need for food, such as a can opener
Extra clothing
Blankets
Something entertaining, especially if you have little ones
Individual necessities; for instance, diapers for your baby, OTC medications, and prescriptions
Be sure to check your shelter supplies regularly to make any changes or replace old items.
Use It
You bought or built your storm shelter to protect you, so let it do its job. Get to your shelter as quickly as you can, especially if it is outside. Waiting until the storm has arrived is not helpful. If you listen to local radio or news, announcers usually let you know when to seek shelter.
Please do not come out of your storm shelter until you know the storm has passed. Wait for an announcement on your weather radio telling you it is safe to come out.
Tips to Survive a Tornado
Whether we like it or not, tornado season comes every year, and tornado safety is still critical. It is crucial to create a safety plan, practice it, and update it if anything changes. The following are a handful of tips.
Every home would have an underground storm shelter or above ground safe room in an ideal world; unfortunately, our world is not perfect. At a minimum, you must get to the lowest level possible.
Remember, you should never, ever try to outrun a tornado. Find the safest place wherever you currently are and stay there until it passes.
It is also essential to know that flying debris and fallen objects cause the most damage, injuries, and deaths in a tornado. Be sure you stay away from windows and protect your head until the storm passes.
Start working toward building or buying your storm shelter today to provide your family with the ultimate protection.
I hope that helps!
Get a Homeowners Quote with Wind Coverage
At your service,
Young Alfred