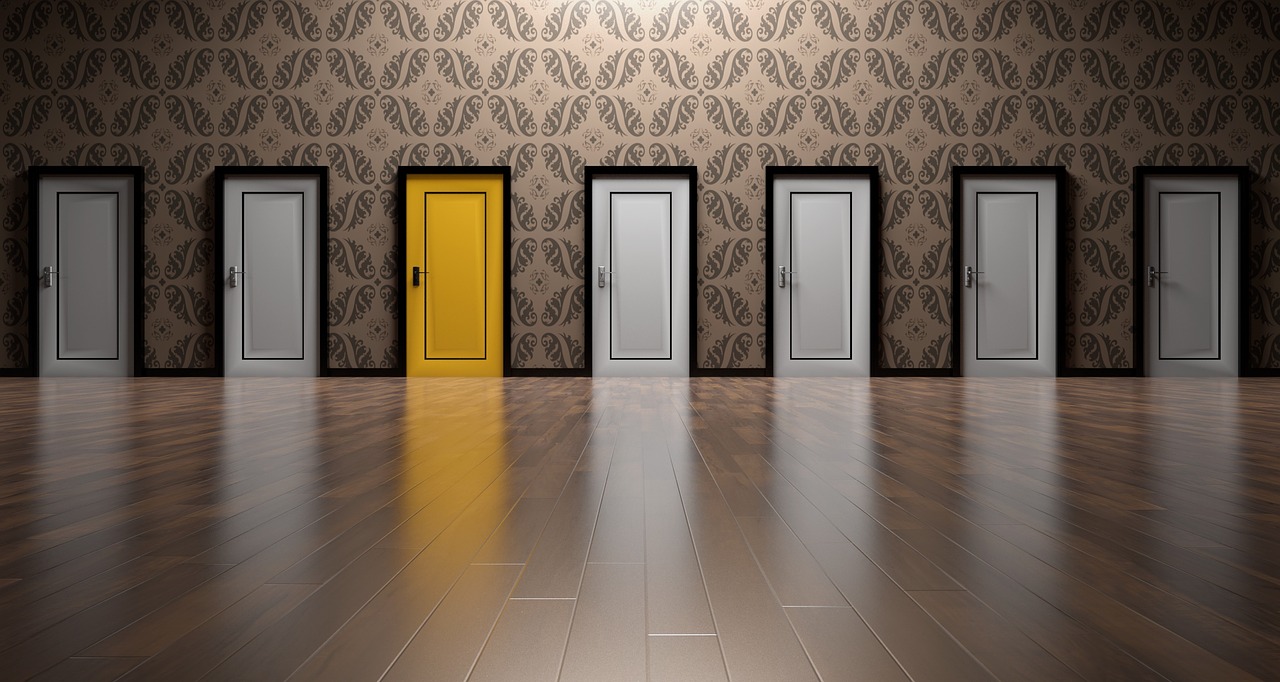 What Are the Different Types of Homeowners Insurance?

Homeowners, landlords, condo owners, renters, mobile homeowners, there are many types of homeowners insurance. When it comes to protecting your home, you want the right type of coverage. Here is a quick overview of the main options for homeowners insurance.

HO3 - Single Family

The HO3 is the most popular homeowners insurance policy. It's what most people talk about when discussing homeowners insurance. While there are more basic versions of this type of policy, they offer far more limited coverage.
The HO3 is an open perils policy, meaning that it covers all perils unless it's specifically excluded. It usually covers attached structures, belongings, and personal liability as well. They tend to be very affordable with the average cost of an HO3 annual premium at $1173 in 2015.
It doesn't cover every type of damage, however. There are exclusions that aren't covered at all by the insurance company and add-ons that can provide coverage for an additional premium.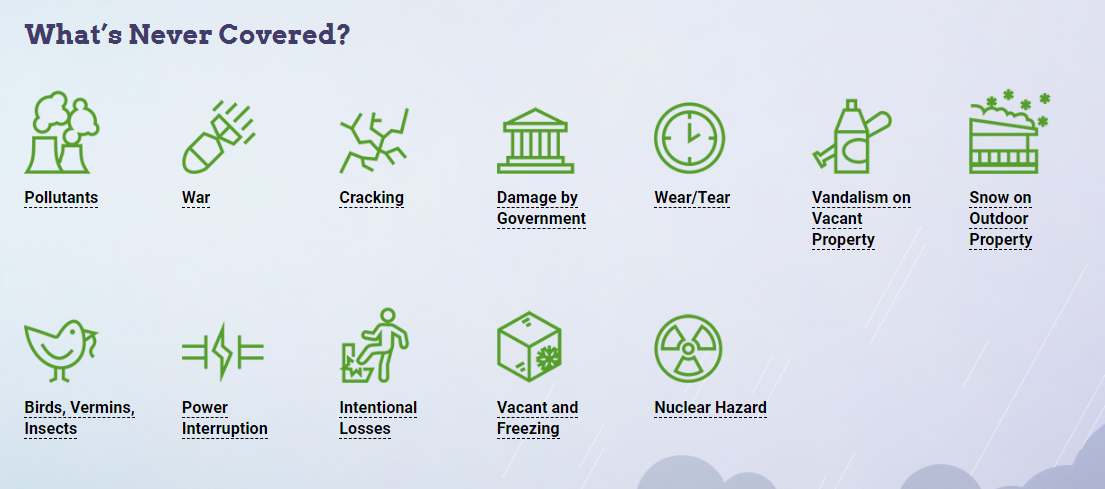 Some HO3s have the option to purchase a discounted vacation home add-on if you have a second home.

Special Add-on Policies

As mentioned, the HO3 policy is mostly inclusive. If the policy doesn't outright offer coverage for some perils, then you can purchase these additional add-on policies (also known as Policy Riders or Endorsements). The price of these and their coverage limits vary depending on your insurance provider. A few of these add-ons are: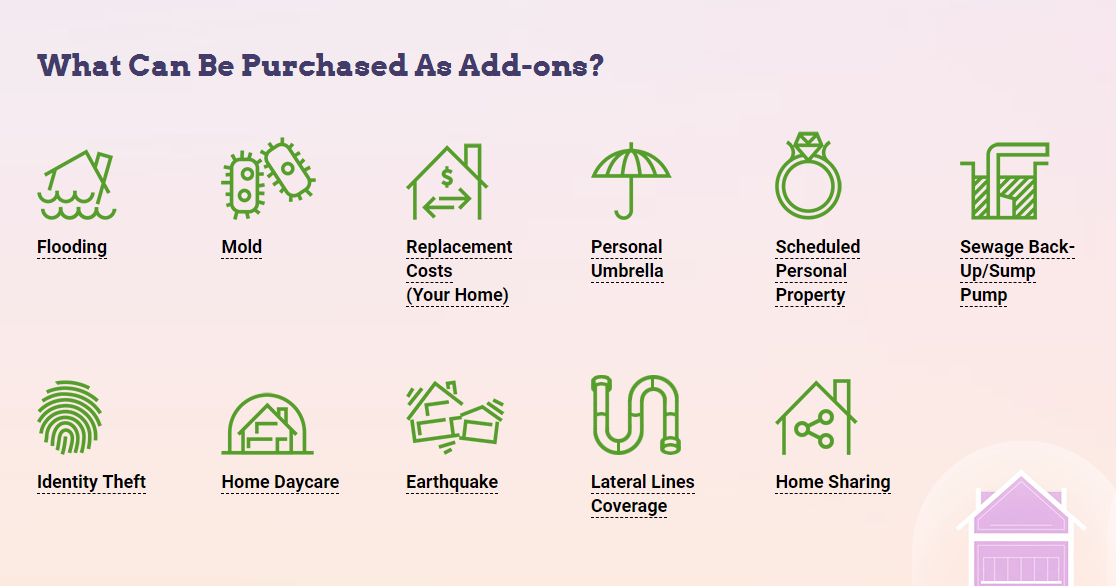 HO4 - Renters Insurance

As a renter, you'll need a different policy from homeowners insurance. An HO4 will offer coverage for your belongings as well as some personal liability coverage. The building structure itself is not covered by a HO4. Instead, the owner of the house or building would have a policy to cover the property. Keep in mind that if you installed any fixtures in the home you're renting, they would also be covered by the HO4.

HO6 - Condo Insurance

The HO6 is similar to the HO3 but designed specifically for condo owners. You'll have the typical coverage for various perils as the HO3, but it will also include the walls, ceilings, and floors of the unit. The building structure itself would be covered by a different policy known as a Homeowners Association (HOA) Master Policy.
It's important to note that condo insurance can be complicated. This is because not only do you have your coverage to take into account when filing a claim, but also the building's Master Policy. And if a negligent 3rd party (another condo owner, for instance) caused damage to your home, then their insurance policy would also come into play.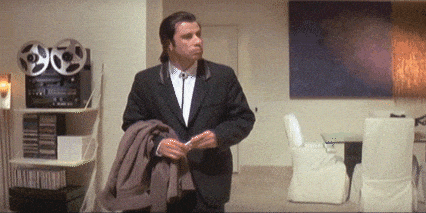 Knowing where the HOA policy's coverage stops and where your coverage should start is key. If your condo needs to be completely rebuilt from the ground up, are you personally responsible for?
studs in - literally you get your condo back unfinished, with the studs and no drywall

walls in

- walls are up, but you need to put up finishings (flooring, cabinets, countertops, etc)

original specification

- does not include upgrades you did after buying the unit, but back to original condition. If you added some nice granite countertops, get those covered on your HO6.

all in

- livable (full restoration)

The difference in coverage you may need for "studs in" vs "all in" can be over $100,000 in coverage, so double check with your HOA before buying a policy.

DP3 - Landlord Rental Policy

This policy covers houses from single to multi-family that function as rental properties (excluding apartment complexes which would be insured through a commercial real estate policy). The DP3 is the policy for anyone who rents out property, covering the building's structure and rental income from the property. However, it does not cover the renter's belongings (coverage can sometimes be purchased as an add-on).
If you own a duplex, triplex, or quadplex and live in one of the units while renting out the others, then you will sometimes need a DP3 as the HO3 policy may not cover the area not inhabited by the owner. This depends on the insurance company you are working with.

DP1 - Vacant Property Under Renovation
The DP1 is your most basic homeowners insurance policy. It provides the bare minimum coverage for a vacant property. It's also a named perils policy. This means that it only offers coverage from a short list of events. Common named perils for this policy are fire & lightning, smoke, explosion, and a few others. If damage happens to the property outside of the named perils, it would not be covered.
One important note, DP1 policies tend to be Actual Cash Value (ACV) policies. This means that if you have a claim on your house under this policy, it won't be valued at the replacement value, but at the ACV. As a result, you aren't guaranteed to get your entire house back, and sometimes will just get a check for the ACV coverage amount on the policy.

Mobile Home Insurance

Mobile homes need their own insurance to cover the differences between them and traditional houses. These policies are very similar to HO3 policies but tend to be more expensive when compared to the cost for coverage provided due to the fact that mobile homes are at a higher risk of being damaged.
Along with the traditional perils mobile home insurance covers, it can also cover relocation expenses and replacement of damaged personal items. And if your mobile home gets damage during a move, the insurance usually covers repairs.
Hope that helps you in navigating the confusing world of insurance. Doing my best to make it easy.
At your service,
Young Alfred